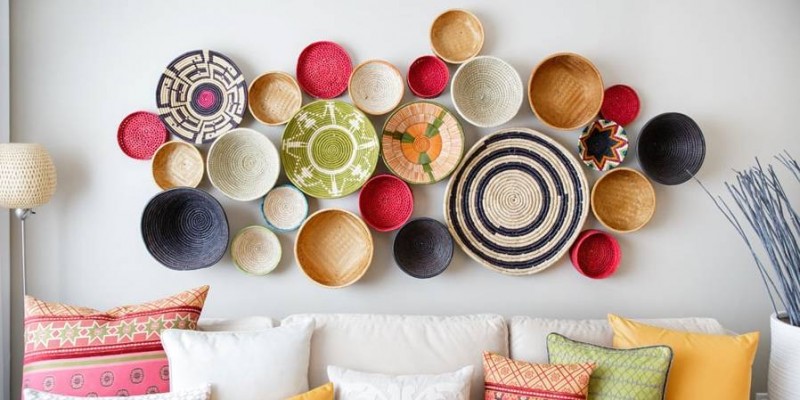 The blank wall. Every home has one. You promised yourself you'd put something ace up when you first moved in, but it's fallen down that to-do list over and over again, you've walked past that blank space of yours so many darn times you don't even realize it's there anymore. So, the obvious answer to all this is to create a photo-gallery wall. There's nothing wrong with this obvs; it's just a little bit, kinda cliche. It's been done so many times that it hardly makes an impact anymore. I've pulled together a list of creative ways you can add a lil' bit of color and creativity to this gaping canvas of yours. You're welcome.
A Gaggle Of Baskets… Baskets come in all shapes and sizes, colors and patterns, yet they seemed to always get stuffed within each other and then left below the coat rack in the utility room. Well, hows about hanging a bunch of decorative baskets on your wall to make a statement. It could be that you collect baskets from each of your holidays from now on, or just start painting the ones you spy in thrift shops – so long as there is a mix of sizes, styles, shapes, and colors you will be smiley by the results.
Letter Of The Law… I adore any look that takes the worlds of rustic and contemporary and slams them together to create art, and that's exactly what you'll get from hanging giant metallic letters on your blank wall. Having a couple of letters is gonna make a cool creation no matter where you put them. It could be your initials, a combo of yours and your spouse's, or your kid's names; slightly overlapping a pair of letters is a neat idea too, ya know.
Embrace The Wall Brackets… Everyone seems to think you have to hang your art on the wall, with the bravest of this bunch a) hanging their art at different heights or b) not hanging it and choosing to lean it instead. Well, a great way to make your favorite bird art standout in a whole new way is to put up some decorative wall brackets and then stand your framed bits on these. It'll just add another dimension. You could even paint the wall brackets with accent colors to make 'em pop even more. Or, I love to hang my vintage shoes, bags and dresses on the walls, either with antique coat hooks or creating a cool way to both store and display your wares!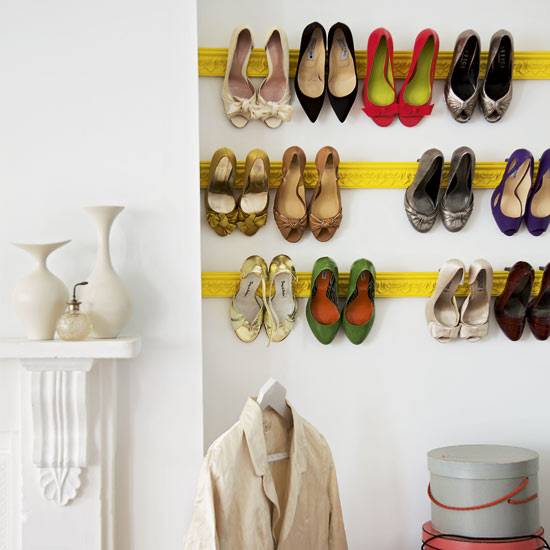 Use The Wall Itself… Your wall is blank and bare, but that doesn't mean your only option is to hang something on it. Hells no. A great way to make a wall standout is to turn it into something special in its own right. You could do this by creating a taped-off graphic statement, painting a wall in a lovely base color, waiting for it to dry, applying tape across it at angles and then painting over it to create a lovely statement. Or you could add some subtle wood paneling if you fancied. Perhaps, just framing some wallpaper would be enough. The options are almost infinite. Happy home making, y'all!