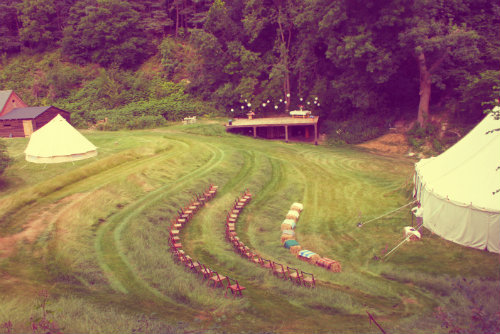 Well, what a super summer wedding. One of my most lovliest of friends, Louise, got hitched last Friday and it was nothing short of glorious. This current heatwave, combined with a breathtaking venue made for one of the most relaxed and happy days I have spent in a while. Lou and Andy were the most perfect hosts and my goodness, that little place out in the deepest depths of Norfolk, was just about expolding with love on that sunny day, what a joy to share it.
The location was perfection. A new venue, The Keeper and The Dell, is a good distance from the city of Norwich and allows you to feel like you are entirely in another World. A deep grassy dell with wooden seats and hay bales set into the slope, Lou had dressed the venue seamlessly. An original old handmade marquee, backing onto woodland, a swing in the tree, lanterns hung in the branches; the tranqulity and sense of space was a real treat. A sincere and informal ceremony in front of their loved ones, Lou looked breathtaking. Brides always have this immense glow to them and Lou, well, she truly sparkled. Her dress was a nod to the 1930's, silky, body hugging and feminine, she radiated happiness. Their cute-as-a-doll daughter is called Iris, so, of course, Lou clutched a bunch of these as she walked to meet her groom.
Afternoon tea in the marquee, oodles of Gin in jam jars, live music and much sitting on the grass barefoot made for a day that dreams are made of. To fill our tummies, a fish and chip van (a classy, award-winning one mind) arrived to serve us and the merriment continued till it got dark, when we all gathered around an open fire with the band playing an accoustic set. Wonderful.
James and I have been a couple for around 13 years, we don't have any real intention of getting hitched, it's not something we feel we want to do, but weddings do tend to bring out the very slight romantic in me. Pledging your absolute love and devotion to your partner in front of your friends and family is a really special event and always, momentarily, makes me wanna do it too!
My outfit was a last minute choice, having been busy of late I hadn't decided what on earth I was going to wear! I had this red lace dress in my closet. This dress has a story of sorts. It was mine, I loved it, but never wore it. So I popped it in the shop window over Christmas the other year, I guessed it would look pretty and festive while we were closed for the holidays. On the first day of opening after Christmas, I arrived a little late to the shop and James had sold it!! I informed him, whilst trying not to look too sad, that I wasn't sure I actually wanted to sell it. I guessed I'd never see it again, but thought of it often. Then recently, the girl who had bought it mentioned it and said she had worn it once and was finished with it, so, I suggested I buy it back off her! She agreed, and the dress was back in my arms. So, for Lou's wedding, I decided this dress was gonna be worn. Red lace 1960's wiggle dress with spagetti straps; I teamed it with some 1970's gold Russell & Bromley heels, a 2004 Dior perspex cuff and my 1970's Magazine clutch bag.
A happy day indeed.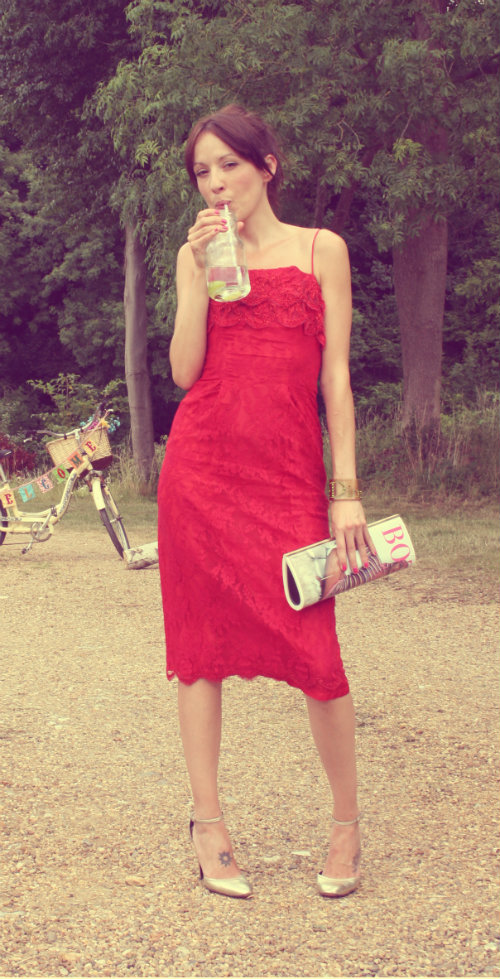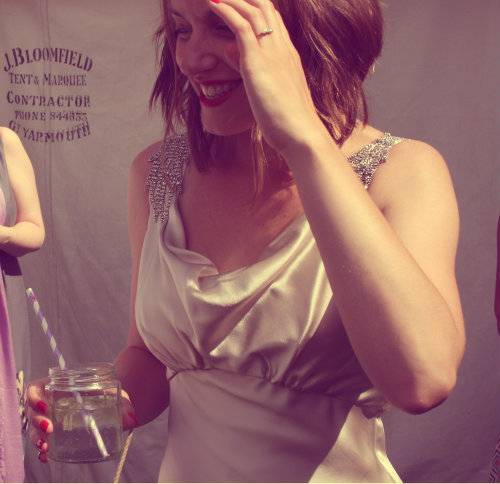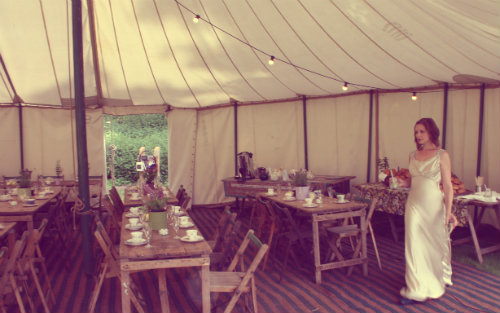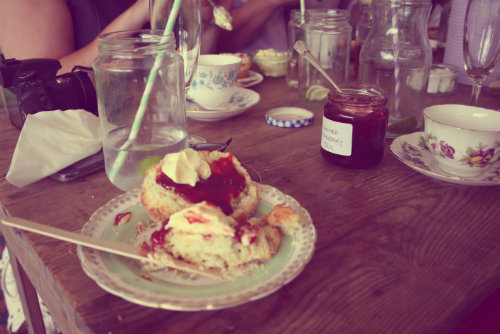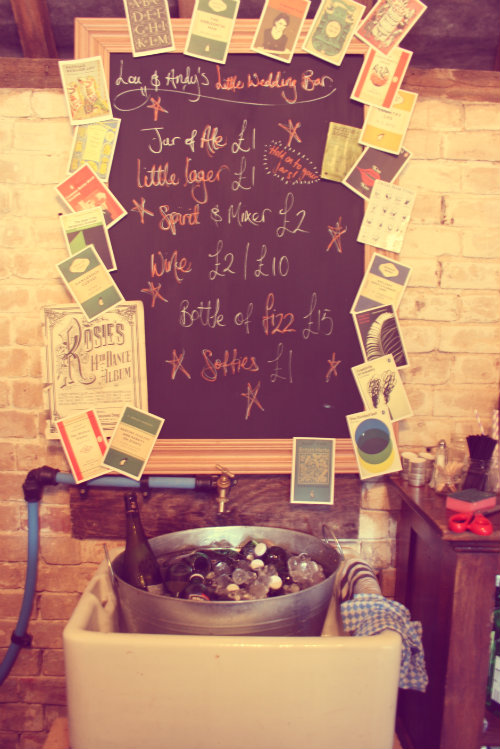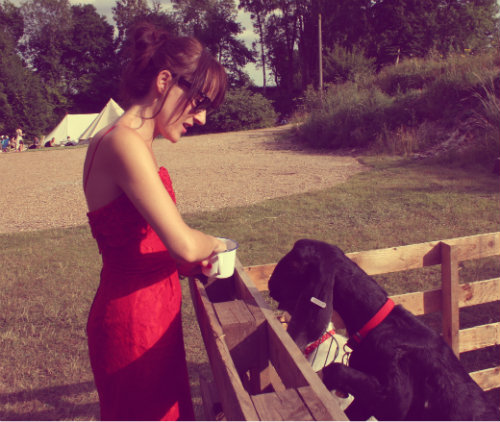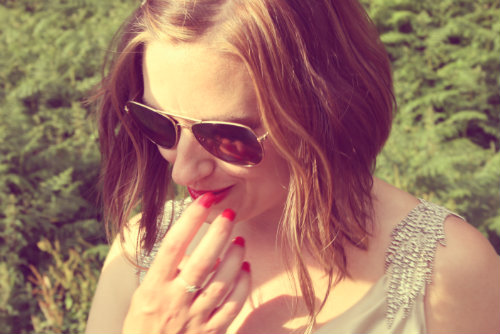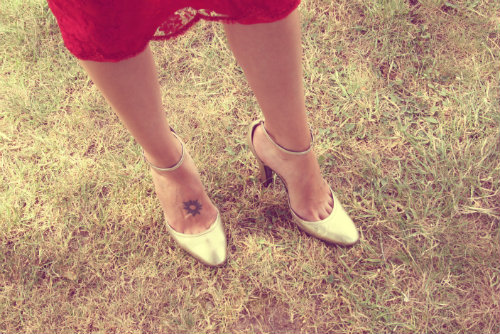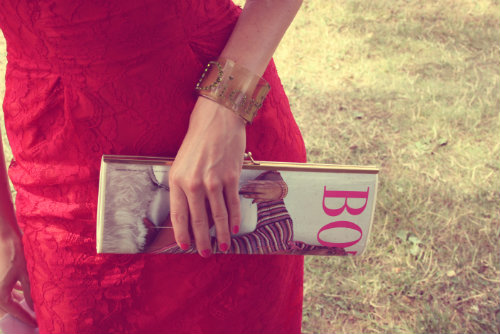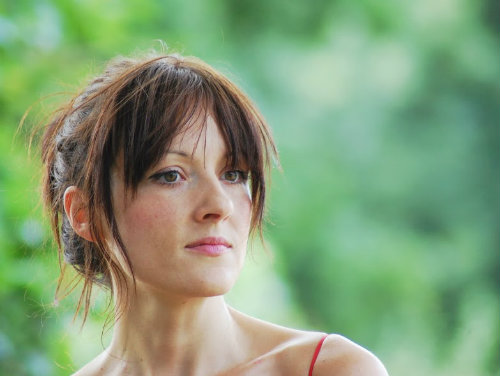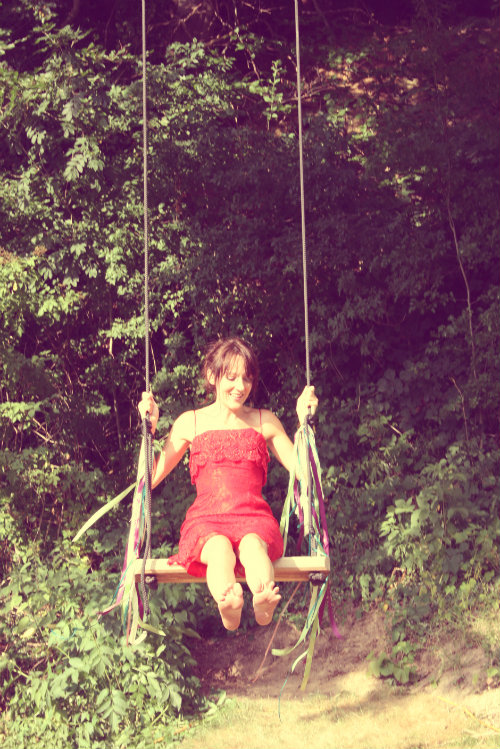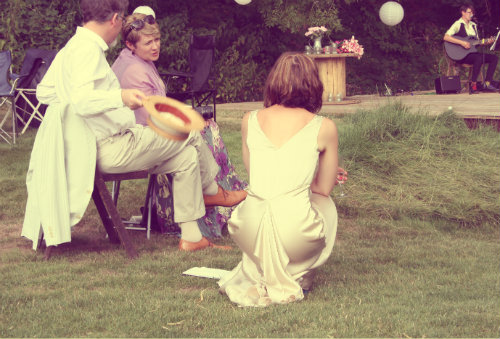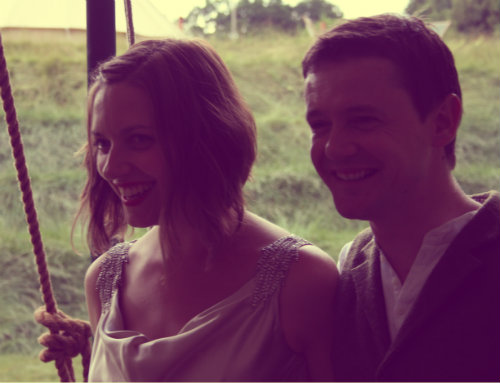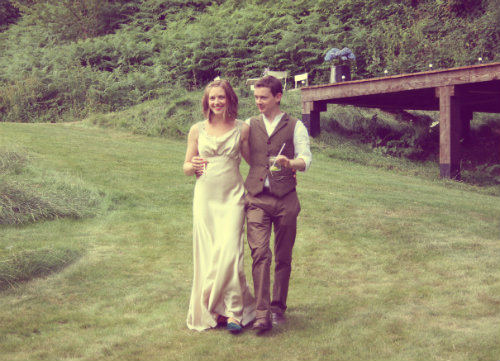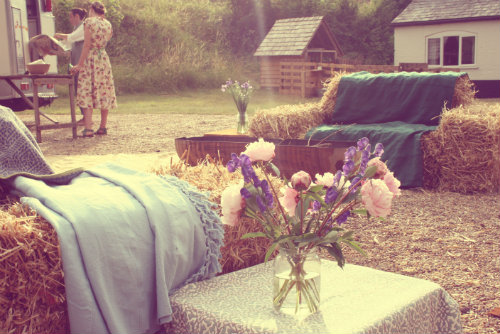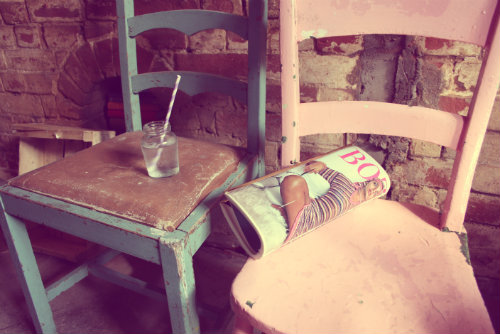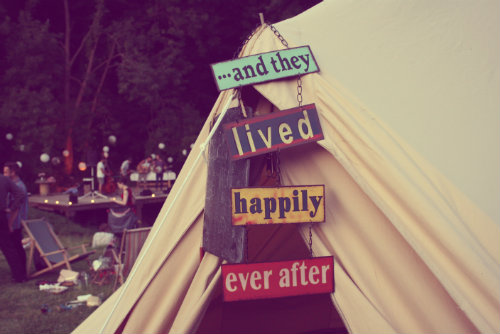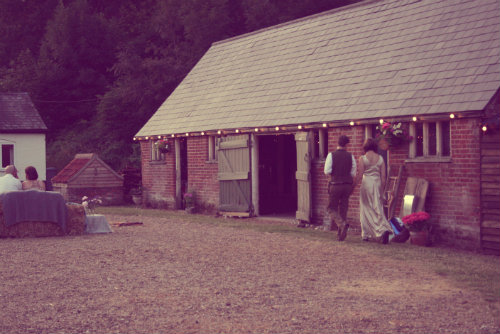 Photo 14 courtesy of the lovely Cassie Tillett who has a lovely decluttering website, for more information on the wedding venue visit The Keeper and The Dell, all my clothing is, of course, from Prim Vintage Fashion.