"I don't dress this way to go unnoticed"
On my recent American road-trip holiday, we spent three days in Las Vegas. I was last in Vegas when I was 21 and this time my memories aren't as fond; it was busier, stinkier, hotter and tackier than ever. Too many stag do's, drunken business trips, and voyeuristic tourists have turned this magical kitsch city into a bad night in a sweaty nightclub. Alas, it appears that any glamour has long gone. But, luckily, as I was walking past The Cosmopolitan hotel and casino, I saw a sparkle of the city's past glamour; in a small but perfectly formed exhibition showcasing the sequin festooned stage outfits of pianist Liberace. Phew.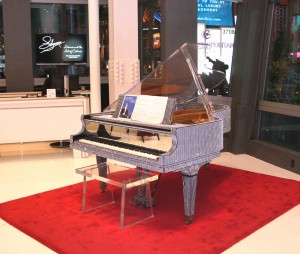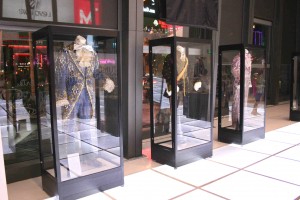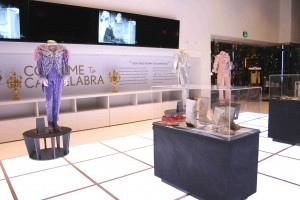 In Las Vegas, both now and in it's heyday, it seems that the bigger, the tackier, the more brash, indulgent and extravagant; the better. And who better to have lived by this idea than glittering entertainer Liberace. I don't know a lot about him, I know he was a child prodigy on the piano, I know he was camp and theatrical and that between the 50's and 70's he was the highest paid entertainer in the world, wowzers. Liberace's love affair with flamboyance began when, as a younger man he was watching pianist Hildegarde and was told 'you've got to get a gimmick'. Liberace then went and bought a gold candelabra from a thrift store and placed it on top of his piano whilst performing. This was just the start, his signature style of kitsch European opulence was born. Much of his career was spent playing residencies in Vegas at hotels such as Flamingo where I stayed, and up until 3 years ago there was a permanent museum in the city dedicated just to him. It would seem that Liberace and Las Vegas go hand in hand, this ace pop-up exhibition at Cosmopolitan celebrated the over the top, in your face, bedazzling style that you would expect from America's most garish city. The title of the exhibition states it perfectly;
'Too much of a good thing is wonderful: Liberace and The Art of Costume'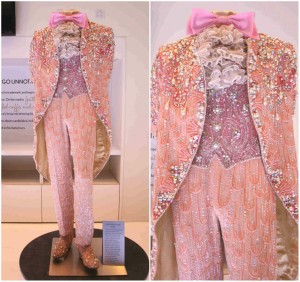 King Neptune Suit
This suit dazzled audiences around the country and was replicated for the recent movie 'Behind The Candelabra'. The beads elaborately create the look of waves, shells and sea coral.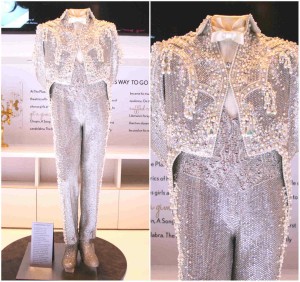 'Rhinestone Suit'
Whoosh, someone went crazy with the rhinestones on this one. As with many of his suits this is made from a sturdy polyester gabardine but the embellishments completely cover the utility fabric. The crystal rhinestones are rim set- a now obsolete technique that encloses the stone within a circular mount and then attaches it to the fabric.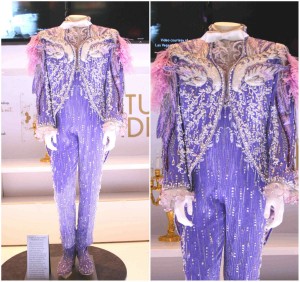 'Purple and Phoenix Suit'   
Liberace sure knew how to make an entrance and at Radio City Music Hall in 1986 he came onto the stage from above- showcasing this suits bird motif and glittering plumage! The birds are outlined in crystal seed beads and pink French curled Ostrich feathers make up their tails. Feathers featured in many of his costumes, making it hard for preserving the collection.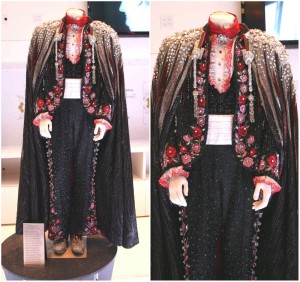 'Matador Suit and Cape'
Crikey this one's pretty glam! Liberace wore this costume for his 1981 performances in Mexico City. The elaborate sequin work on the cape is accomplished with the now obsolete Cornely machine, a chain stitch machine which allowed the individual application of beads and sequins.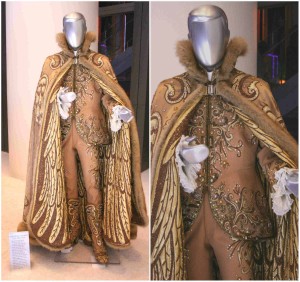 'Hapsburg-inspired Suit and Cape' 
This rather camp ensemble was designed by Michael Travis in 1983, it features a double headed Eagle associated with the rulers of the Austrian Empire; The Hapsburgs. Heavily appliqued using gold lame and bands of gold bugle beads to make up it's lavish appearance. The cape is trimmed in Sable fur.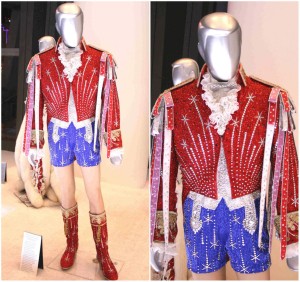 'Red, White and Blue Hot Pants Ensemble'
Woah, it doesn't get much more American than this! Liberace wore this rather patriotic number in 1986 as a tribute to the 100th anniversary of the Statue of Liberty. The embellishments of silver bugle beads and crystals give the illusion of separate garments but it is in fact a jumpsuit, making costume changes easier. Audiences loved how this suit demonstrated Liberace's wonderful sense of humour.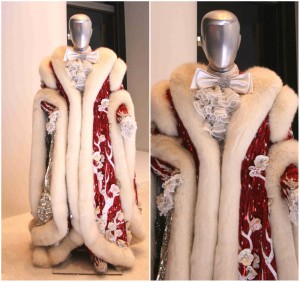 'Christmas Suit and Cape'
I wish Father Christmas was real and that he wore this. In 1980 Liberace wore this gabardine and white fox cape for his Christmas shows at Las Vegas Hilton. The cape demonstrates the skill of Anna Nateece, a Greek born fur designer, the cape was entirely lined in silver sequins…oh my!
This pop-up exhibition was a delight, a perfectly delivered slice of old style Vegas glamour, the Vegas I treasure, where neon signs were a novelty, people dressed up for the shows and casinos, and when a trip to this city was a glistening indulgence. There are rumours that the permanent Liberace Museum (it was open for 31 years and closed in the recession) will reopen in a new downtown location, which would be marvelous, you gotta admit that this guy had some pretty exciting style and it would be a real shame to hide that away in this sequin-celebrating city.