Goodness me, shoes are just glorious, what girl doesn't love them? Like most, I have a pretty sizable collection of shoes. Some I wear to death, others mostly sit there to be admired and slipped on once in a while. I love both vintage and modern shoes, I love sexy high heels, I adore snakeskin and good old leathers, I love glitter and bow details……I also loooove boots, mostly brown boots and 80's kitten heel ankle boots. With both my shoes and boots I like them to look lived-in and well-loved, I like to look like I walked a few blocks in them, don't know why but I don't like the look of brand new shoes, I want my shoes to look as if I have had good times in them. My bedroom is pretty littered with footwear, they are as much ornamental as they are wearable and as with all my vintage pieces, I like to wonder about where the shoes have been worn, who by and how much dancing have they done.
A few of my most favorite pairs of shoes are; my 1920's silver leather shoes, so flapper, I imagine these danced the Charleston a few times! A great pair for all sorts of outfits that require a feminine and pretty neutral shoe, very dainty and girly, pretty comfortable too.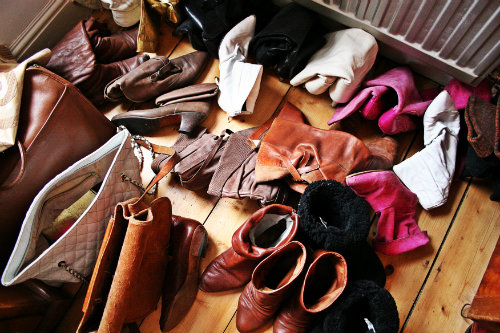 Another amazing pair are my 1940's black suede shoes, I call these my 'Cage' shoes as they make it look like your feet are in little ornate cages, I love how the foot is pretty much fully on show at the same time as being covered, part of why I love shoes is that ultimately, I think women's feet look so sexy in them and this pair of shoesies are a great example. These are so classically 1940's and in stunning condition, you don't see a lot of shoes like this, a great statement pair worn with a plain dress.
These 1980's pink and white leather heels are just ace. So definitive of their era and pretty unusual too, great with skinny jeans and a blazer.
These 1980's black suede and diamante bow slingbacks literally make my heart jump, sooo cute with their over sized bow and so feminine with their open sides and slingbacks…perfect with a black dress.