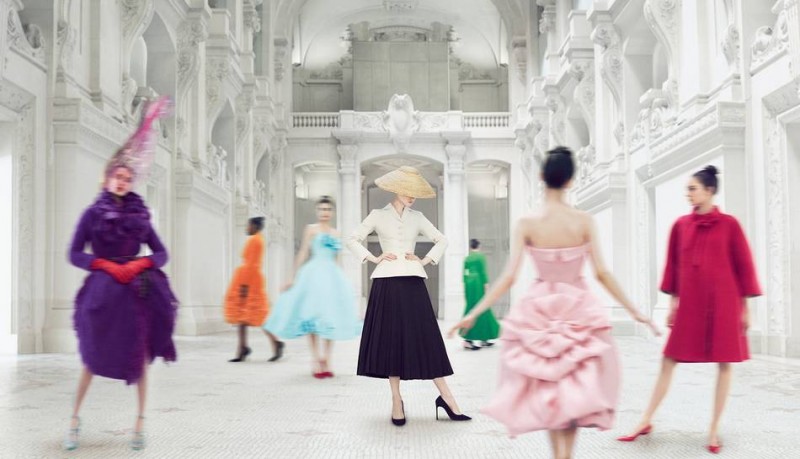 So, Paris is always a good idea, so the saying goes, and I kinda think it's true, as I discovered when I impulsively popped to the very pretty city. Paris played host to what I can now confirm to have been a dreeeeam exhibition of Dior, and since it opened in July 2017 I had been properly pining to go. I wrote it off as too indulgent and costly, but, when I realised I had no plans for New Years Eve, and that the exhibition ended in early January of 2018, well, the pangs for Dior proved to pull me towards booking a solo trip. A treat for myself after a very tough year. 'Couturier De Reve' (dressmaker of dreams) was an exhibition I just couldn't miss. I imagined being an old lady and saying 'I nearly went to Paris to see that amazing Dior exhibition, but didn't go in the end', and that thought made me sad, so I booked a seat on Eurostar, and went.
Pop! Paris was calling.
It did cost me money, and it did feel feel indulgent, but it did make me very happy and I'm so bloody glad I went. Dior did not disappoint, not one teeny bit. Paris itself was wonderful, an exciting and elegant city, and travelling alone was just what I needed, (more on the city and travelling solo in my next posts) but Dior, damn, it was divine. Celebrating 70 years since The House of Dior was created, it was an exhibition of epic proportions. I'd arrived late one afternoon so wandered down to The Musee Des Arts Decoratifs so that I knew where I'd have to get to the next morning, and what the queuing set up was like. Getting there from my hotel was straightforward as the Metro was real easy to navigate, and even though the museum was due to close in an hour the queue was still wiggling a long way down the street. Gah, I'd have to pitch up real early in the morning to ensure I got in on my only full day in Paris. So I got there bright and breezy with a croissant in my tummy on the morning of New Years eve, and the queue was pretty short. Phewf! I stood and chatted in line with a lady from Stockholm and we got in as soon as the doors opened. I kinda knew I'd be flabbergasted by it all, my tummy was all of a fizz with excitement. It totally blew me away. Like a combination of all the best bits of any fashion exhibitions I've seen in my life, this was simply spectacular. I'm a girl in love with dresses, and this Dior show was dress paradise. It was insightful, educational, expertly curated and so, so beautiful. There were loads of rooms, each completely different to the next, and it covered Dior himself and his design beginnings and went on to showcase the work of all the designers at the helm of this house up until now. It was an absolute heck load of lovely. And, as a vintage dealer who has often referenced his iconic New Look outfit -which defined a decade of dressing- to see that in up close was pretty fluppin' brilliant. It was busy, but calm, all of us in awe of what our eyeballs were seeing. The final room of course had been instagrammed to the heavens and I was most excited to get in there for real. It was like a fashion finale with everyone in there like, literally gasping at the utterly magical feeling it created. Sparkling lights like stars moving around the high painted ceilings of this grand space, music kissing our ears, and dresses, showstopping dresses which I've only ever seen in fashion history books, right there in front of my own face. I don't think I've ever been this immersed or amazed by an exhibition before, absolute perfection. Dior sure made my dreams come true in Paris that day.