Mary Katrantzou walked into the room wearing head to toe black. For a woman whose fashion designs are known for pioneering bright, fussy, intricate and vivid print, I was kinda surprised that she was dressed so plainly. I liked the contrast though between the images her name conjures up and the simple dark silhouette she commands when in front of you. I went to 'An Evening with Mary Katrantzou' at the Fashion and Textile Museum, as with the talk by Pat Albeck, this was a small informal group and Mary chatted about her career in fashion design. She spoke of how happy she was that finally print in fashion was shifting and evolving and women were becoming more open to wearing print as well as all black. When questioned why she herself was dressed in all black, Mary replied 'All year round I wear the same, a black A-line skirt and a black long sleeved top, I'm known for it, I am not known for wearing print. When you are constantly creating and working with colour and print, you need a plain uniform to counterbalance it. My flat is as plain as it gets, all white walls and wooden floors, nothing else.' I like this, I think it would be pretty crazy if her whole life, every aspect, was about prints and colour, the dissimilarity between her work and home life must keep her sane.
Greek born, Mary studied in the USA at Rhode Island School of Design and then went on to St Martins where she completed her BA and MA. Her original interest was in architecture, then fabric, and then she moved into fashion. 'Once you start working with the body, a 3D figure- everything changes. You never know how a pattern will look and change on the figure, the way it swings, the way pleats hang..' she seemed to have been really fascinated by how her print designs could take on a whole new form through shape and movement. Once you work with the female figure 'you become a fashion designer'.
Mary's fashion designs are all about print, when she first started, it was stilll early days of digital print, she taught herself Photoshop and still, today, it is the only programme she uses. In her Graduation show, she had 9 dresses, all identical in silhouette but with different intricate and bold prints. Mary confesses that she is not able to pattern cut herself, she works completely on the model. Her interest in architecture comes into play as she adds the fabric to the model, shapes it so that it flatters and hangs as she wants it to, her dresses have a real sculpted, and architectural element.
Mary loves women, she knows women and she designs for women. She chatted about one of her earlier collections where she took items that women coveted but couldn't physically wear, like perfume bottles or vases and put them in print form on a dress, enabling the woman to wear what she loves in a new form. I love this concept. It has a real tongue in cheek element as well as being utterly beautiful in itself. Some of her dresses are pretty surreal and abstact, quite sci-fi too. But, a woman after my own heart she says, 'It should be as viable to make a dress a woman can treasure and collect and wear once, as it should be to make a dress a woman can wear 500 times'. Oh yes, dresses aren't always things to be worn over and over, they can be purely an object to love and adore for it's form and beauty.
Three of Mary's dresses were on display for us to look at; the first is a really cute and kinda futuristic sculpted shape, different sections and fabrics with contrasting prints, she told how her inspiration was to take elements of ornamentation from different countries and cultures; tapestries, florals, vases, and put then all in one dress……very gorgeous and pretty wearable too.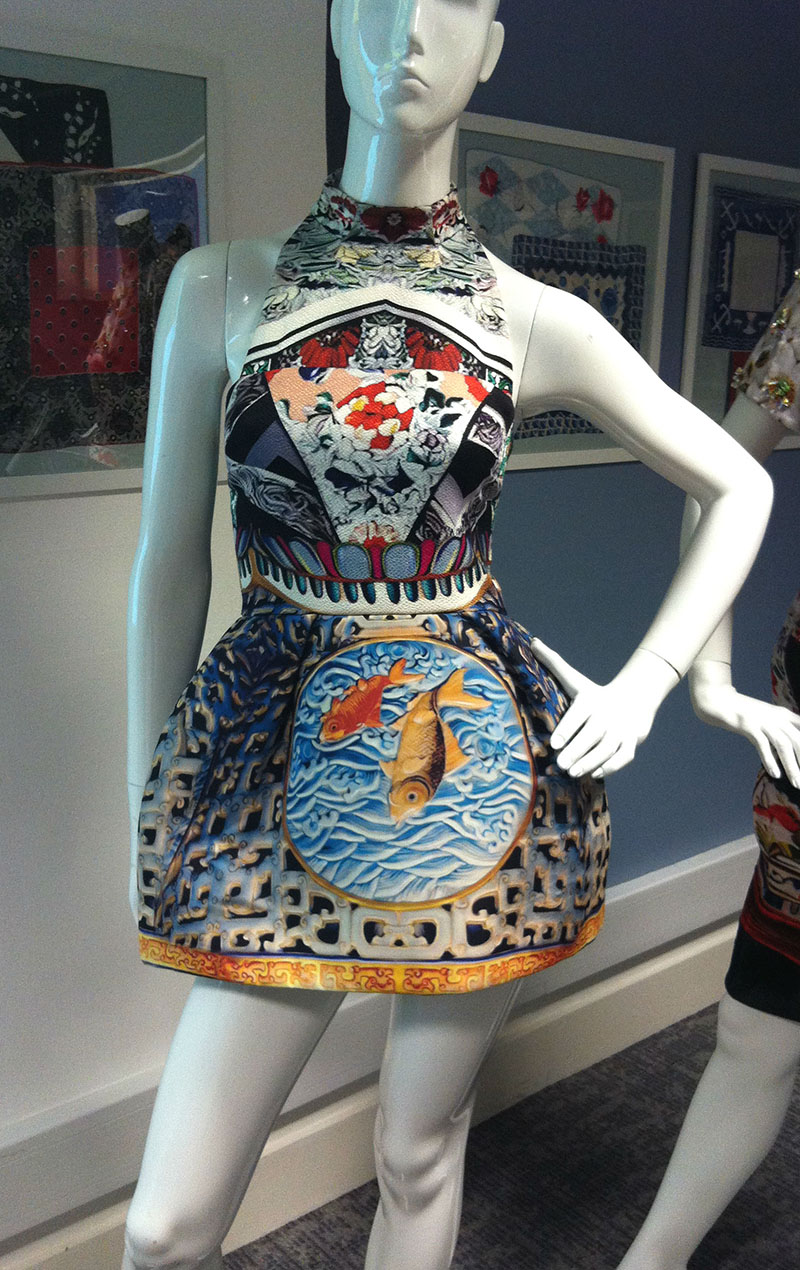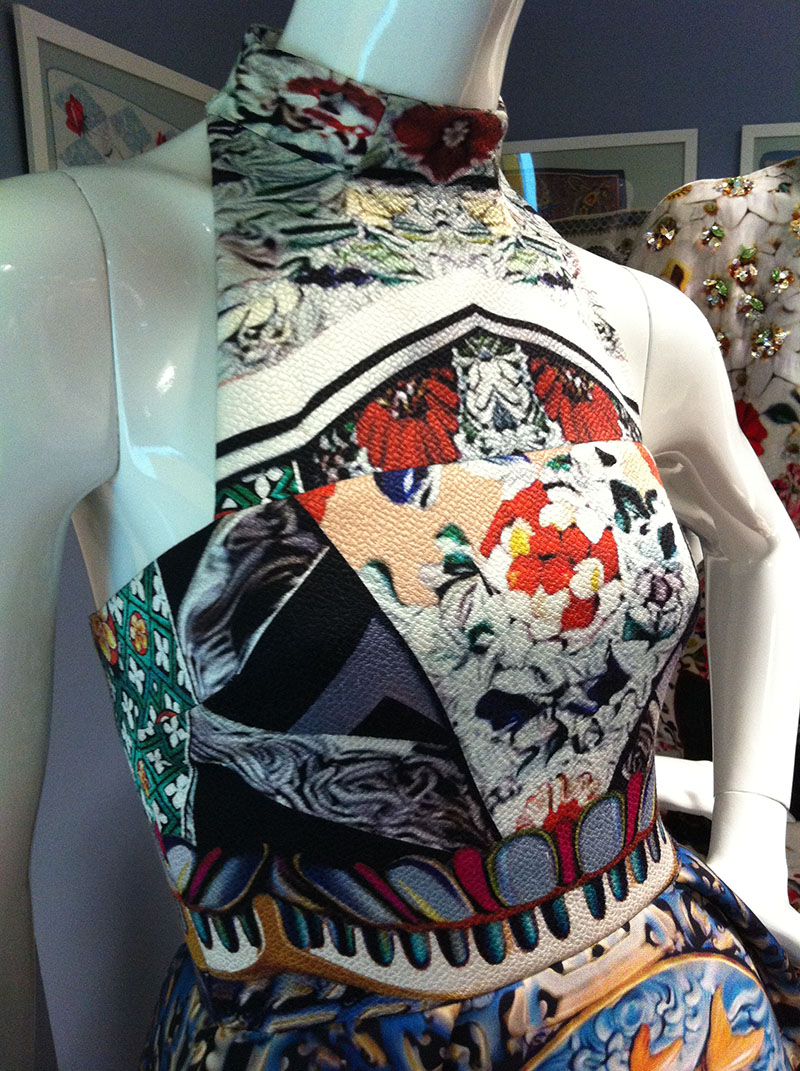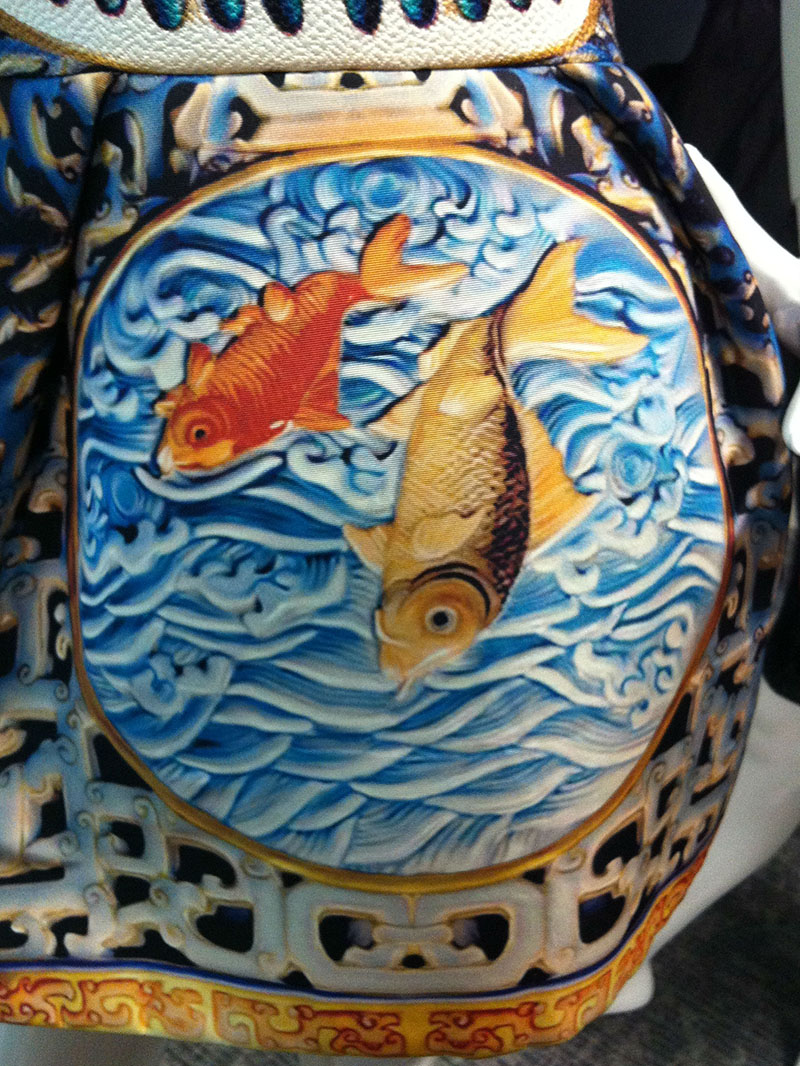 This next dress has so many elements, the mixed layers of raffia, silk, canvas and beading mixed with the different prints make it a really stunning piece…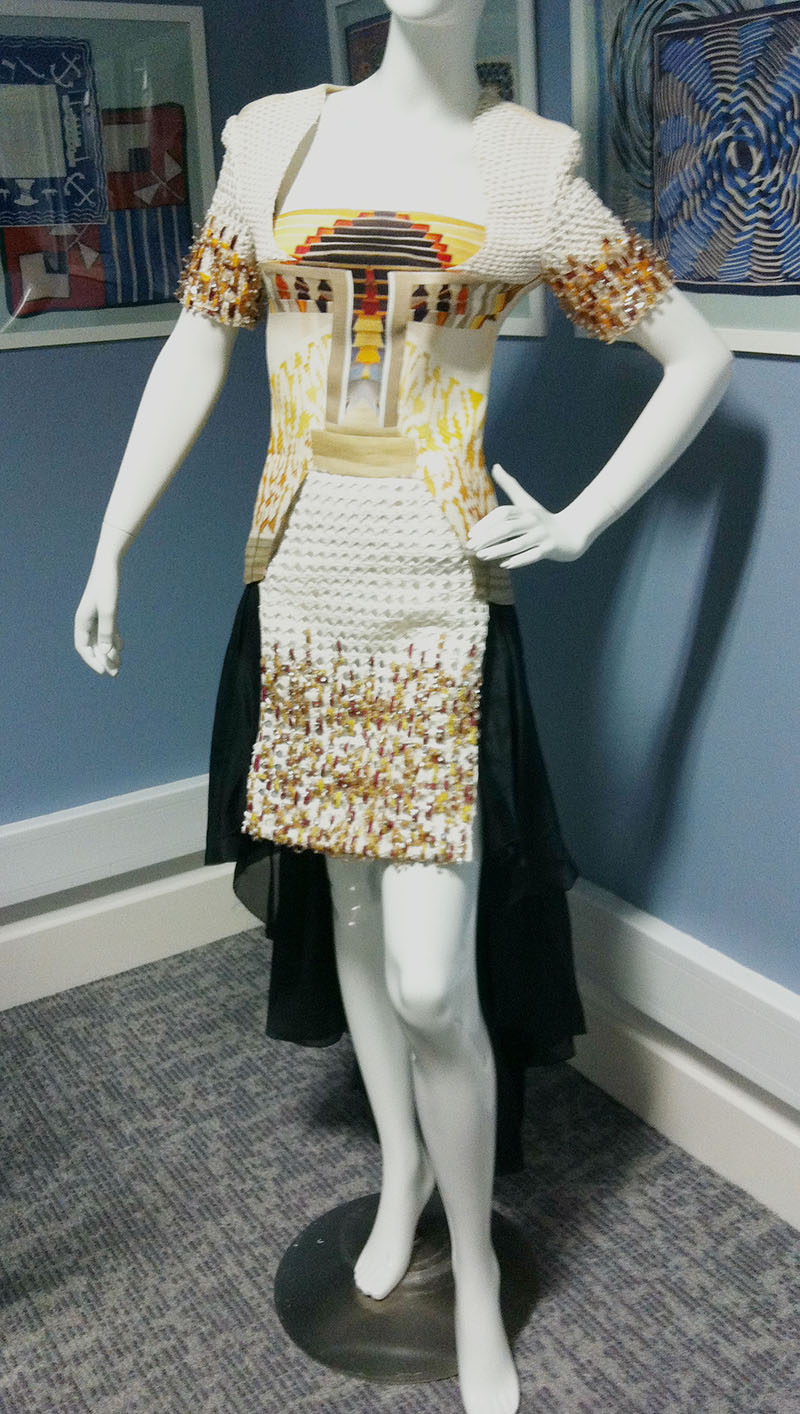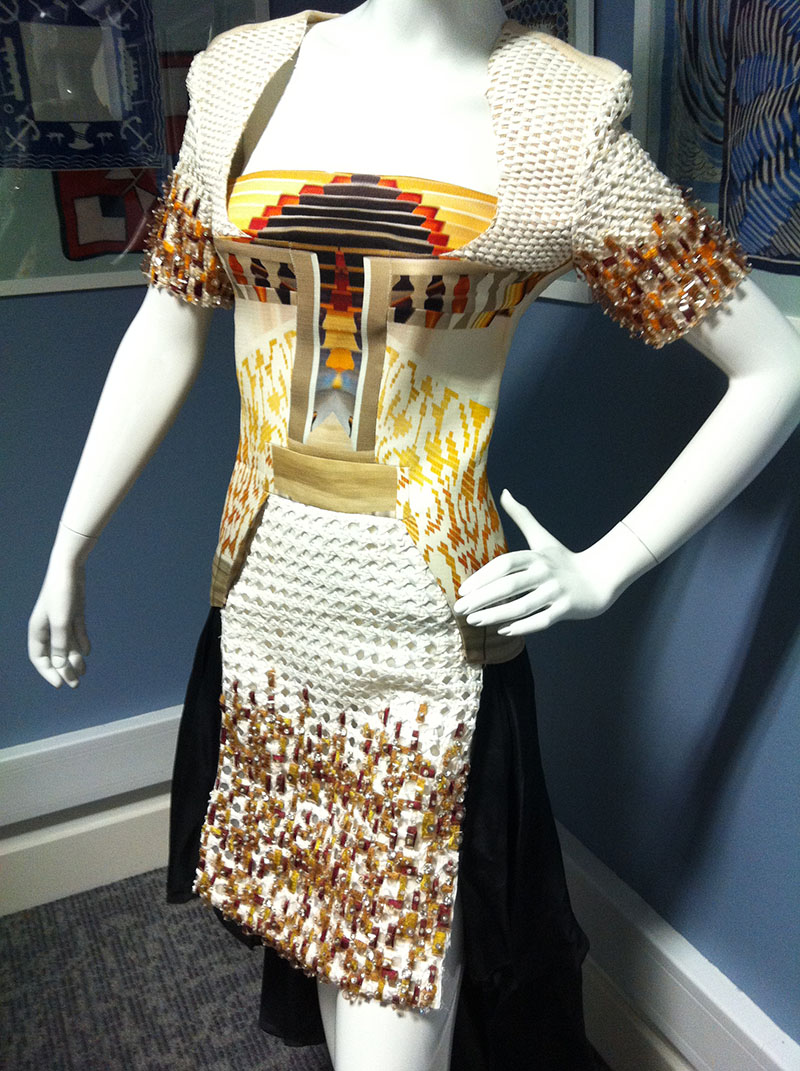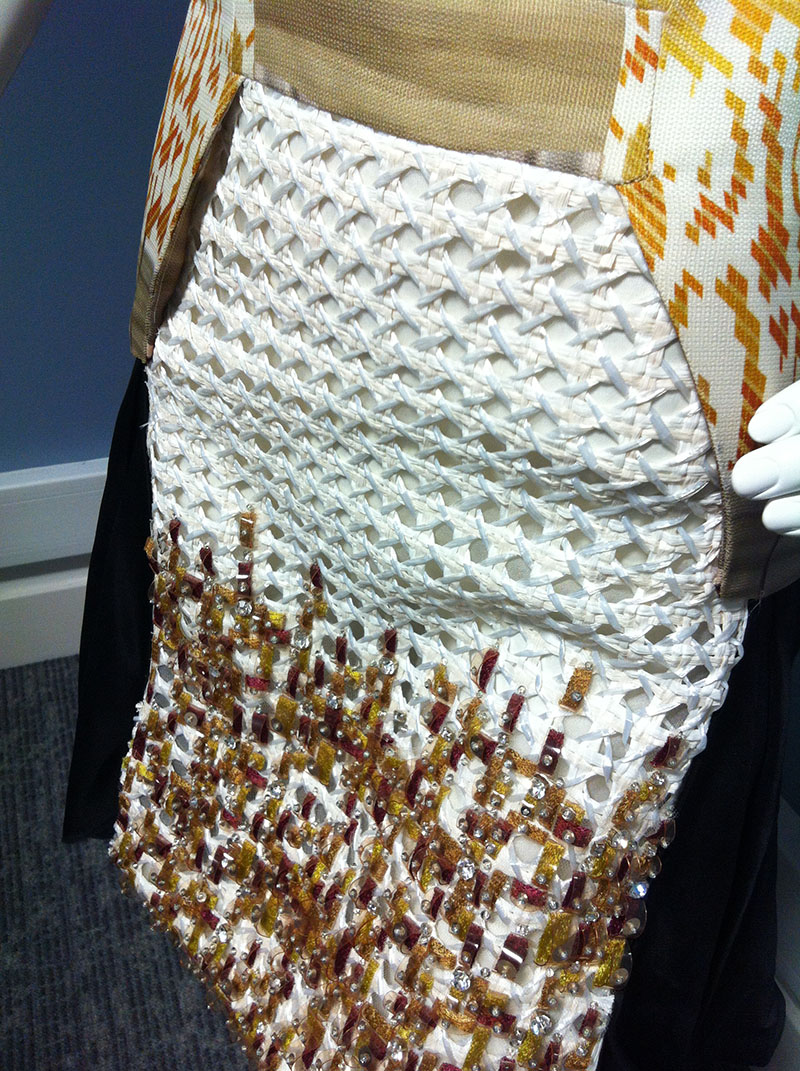 This last dress is my favourite, plush velvet with different prints, the colours are really vivid and Swarovski jewels have been hand-applied to excentuate the colurs…beautiful!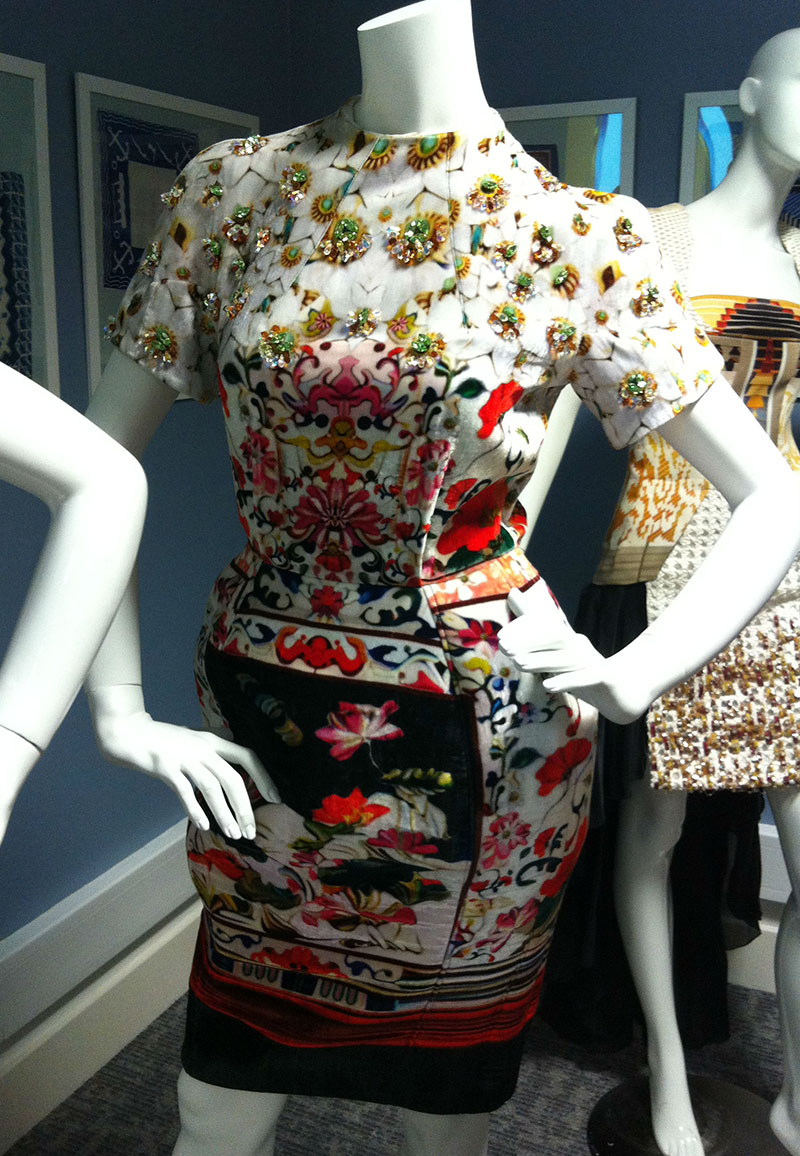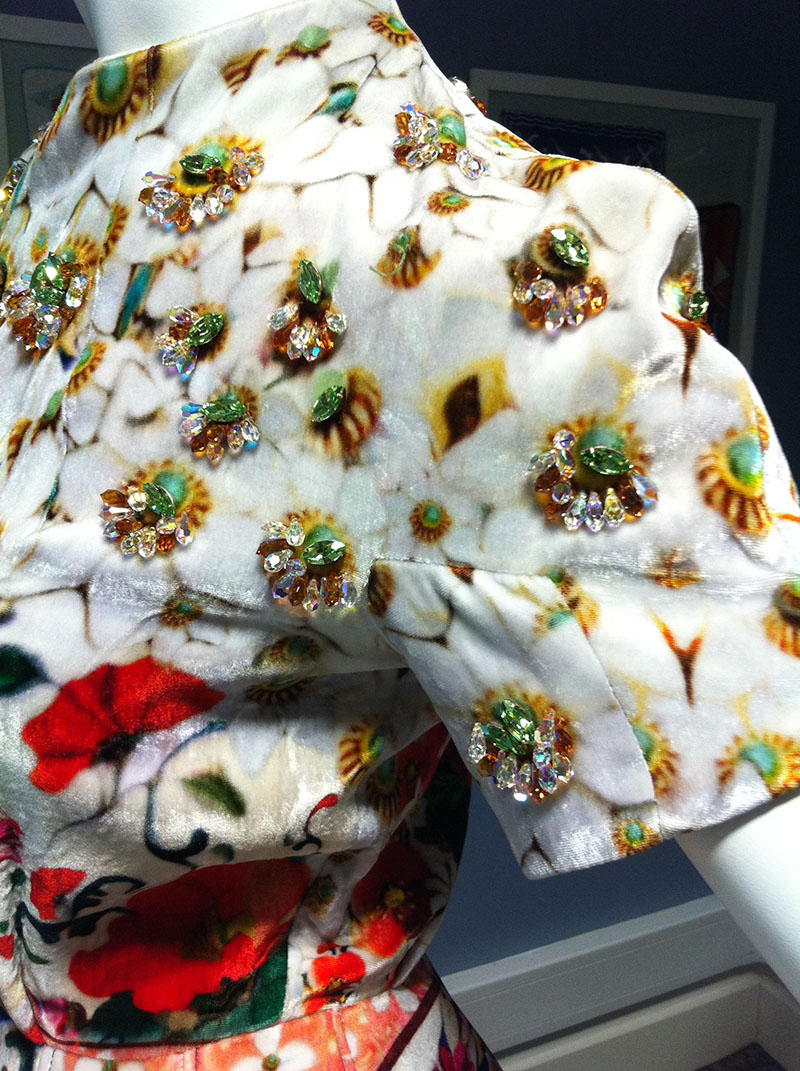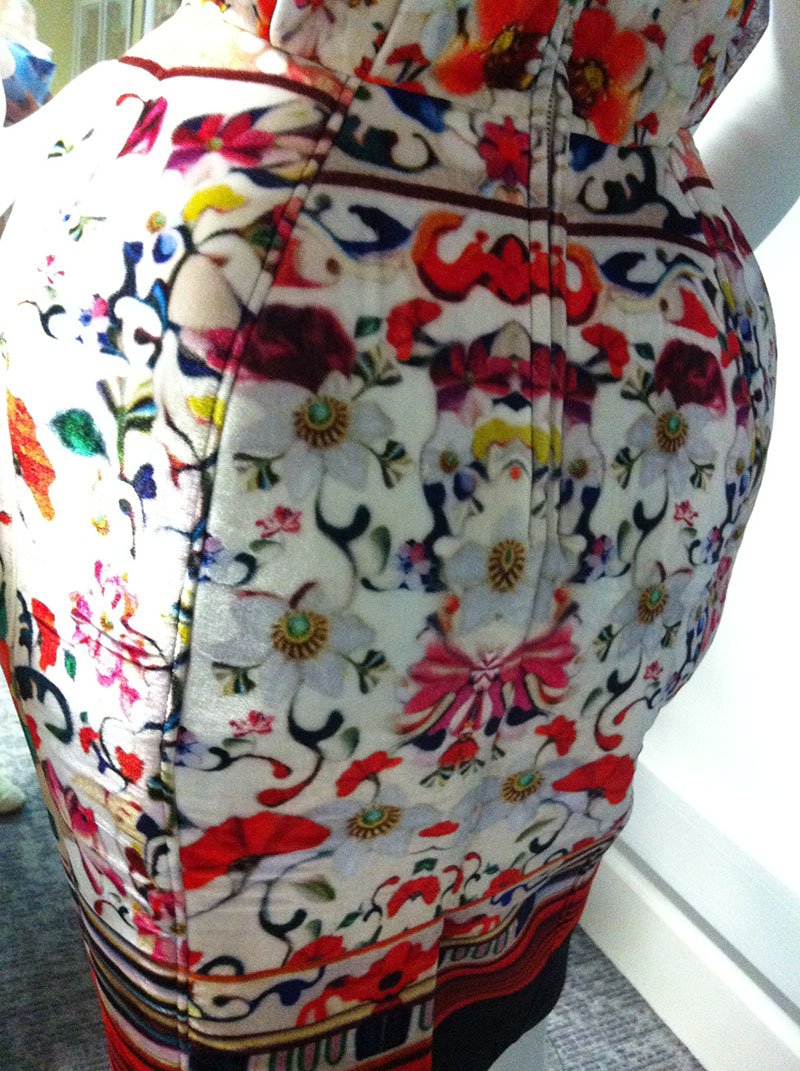 Twas a lovely few hours looking at lovely dresses with some lovely people, Mary said how thrilled she is that her dresses are worn by women from ages 25 to 65, 'and they all wear them equally well'. 
For more information visit www.marykatrantzou.com