I'm a pretty big believer in continuing to date after you and your partner get together. Not much is nicer than dressing up and heading out for a date. You can flirt, talk, and enjoy each other's company, while spending that often lost quality time together. While most of us choose to date at night – dinner and drinks is the most typical date night for couples, but I kinda like to switch it up a little. When you think about it, day dates are a way better option, as they give you longer together, as well as a wider choice of things to do. (You could even turn your day date into a road trip for two…. James and I LOVE mini road trips to the sea!) Of course, a teeny dilemma that comes with organising a day date is what to wear. It can get you in a pickle choosing an outfit for dinner and drinks, let alone a day date. However, don't panic, I've got you covered! Along with all the best day date ideas, I've got some trusty tips for how to dress for them, coz, as every girl knows, looking good is an essential part of dating.
Hop in the car and explore a new city – If you love visiting new places, jump in the car, choose a random place and go and explore it. Aim for somewhere that you've never been before or spent much time in so that you can explore together. Ideally, opt for somewhere that's no further than a couple of hours away, else you'll spend most of your time driving! Once you arrive, spend your day wandering around together. There's something beautifully romantic about exploring a new place while hand in hand with your partner. Look in the shops, visit sites of interest, go for lunch. To get an idea of all the best places to eat, have a look on TripAdvisor. That's the only downside to exploring a new location; you don't know where serves the best food but a little research will find you that best vegetarian place pretty swiftly! As for your day date fashion, for a casual day out exploring a new area, there are plenty of options. I would suggest dressing nicely but casually, in an outfit that's warm and comfortable. A pair of skinnies, a jumper, scarf, coat, and stylish pair of ankle boots would be my perfection. Dress smartly but also comfortably, and don't make the mistake of wearing heels. (As every gal knows, heels and lots of walking really don't mix – hello, blisters.)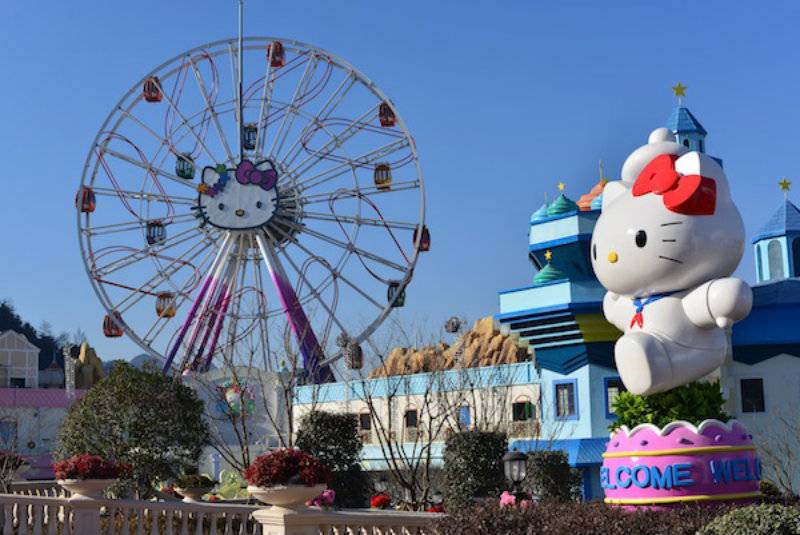 Get adventurous with a day at a theme park – If you're in need of a little adventure, how about heading to one of your favourite theme parks? We all need a little bit of fun in our lives, and spending the day at a theme park is the perfect way to make your date day a little more fun. I shall one day get James to take me to Hello Kitty World! Is there a theme park near you – then head there. Or, if you fancy going a little further afield, have a look online for the UK's best theme parks. Thorpe Park, Alton Towers and Blackpool Pleasure Beach are three of the best theme parks in the country. So if you live close enough to one of these, opt to go there. If you have a look online, you may even be able to get your hands on some discounted tickets, more money left over for arcade fun…whoop! Of course, the question that is most probably on your mind is what should you wear for a theme park date? Well, unless you want to show the world your underwear, don't wear a dress. Dresses or skirts and roller-coasters really don't mix. Jeans and a nice top are a safe bet – leave the scarf at home though and stick to trainers or boots, instead of ballet pumps. (Shoes that come off easily are not advisable when going on a theme park rides, for obvious reasons!)
Book into a spa for a day of relaxation – If life has been a little stressful recently, the perfect day date is, of course, a trip to a spa….mmmmm! Book yourself and your partner in for a tranquil day of pampering and spend time relaxing together. Get massages, unwind in the sauna, and sip drinks in the hot tub. Surely, there's no better day date than that? Don't let the cost of heading to a spa put you off, if you have a look online, you can find some incredible deals. Look on Voucher Cloud and Wowcher, and you should be able to find some great discounts. You might even find a gem of a deal that includes a fancy lunch or afternoon tea, so it's worth keeping your peepers open. As for what to wear, a smart-casual outfit, like a day dress and cardigan is ideal, especially if you're having a fancy lunch afterwards. Just make sure not to forget your swimwear, so that you can relax in the hot tub!
These are just a few simple ideas to get you started on your day date planning; there are so many other ways that you can spend the day together, heaps of endless options, HAVE FUN!