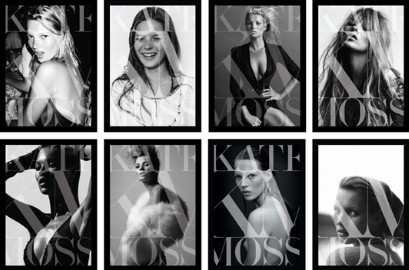 I was out in London last Thursday evening to meet a friend. I heard through the grapevine that a certain Miss Moss was also gonna be out in London. Whoooooop said I.
Kate was launching her new book; 'Kate: The Kate Moss Book' and was signing copies at Marc Jacobs' book store Bookmarc, near Bond Street. Camera in hand I thought I'd pop by to try and get a peek at my favourite girl. When I arrived there was a queue along the side of the shop, around 100 people, not as many as I thought, but then I think maybe her appearance had been kept kinda quiet on the whole. I didn't choose to queue up and meet her, I preferred the idea of just getting a close-up view as she went in, so I stood with the 5 or 6 Paparazzi guys at the front entrance to the shop. Less than 10 minutes later, there she was, her Mercedes pulled up just feet in front of me and out got Kate! An exhilarated girl was I. I snapped away and surveyed her loveliness with my eyes. The shots I got are mostly pretty rubbish but I adore them. In the blinding light of the flashes Kate was petite, smiley and absolutely bloody dazzling.
The book is a huuuge heavy coffee table book and there are 8 different covers to choose from. The book contains hundreds of photographs, many of which have never been seen before, as chosen by Kate herself to showcase her career which has made her an Icon of a generation. She has dedicated the book to her husband Jamie.
Queen Kate, good to see you.