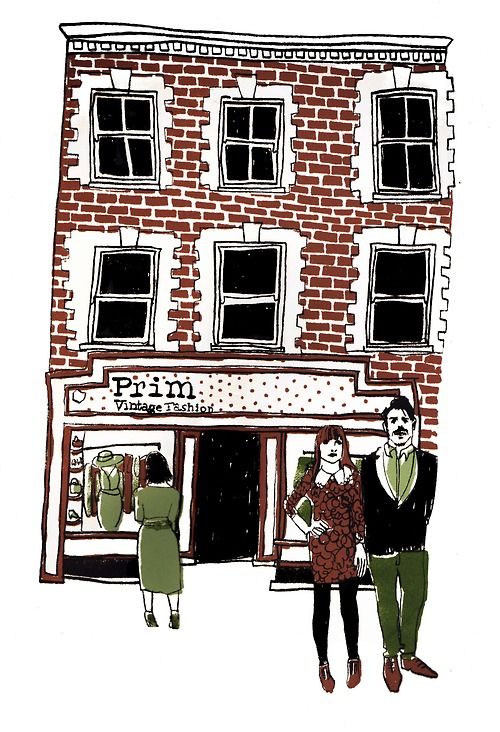 The last few days of my shop are here. Well, the bricks and mortar shop that is, Prim is going back to where it began 11 years ago; back online. Without any doubt at all, the decision to close down the shop has been the hardest and scariest one of my life. Of our lives. James and I adore our shop and are so gut-burstingly proud of it, so obviously the decision has been a real heart breaker and has taken a very long time to make. The reasons are numerous, but out of courtesy for our very wonderful customers, I'll try my best to explain our need to close. There are 3 main reasons as to why we are closing the shop doors and one of them, unsurprisingly, is the recession. We genuinely never went into this business to make millions, if that had been our aim, we woulda chosen something other than selling vintage clothes. We opened our shop so we could do a job we love, fill our days with something we were passionate about and pay our bills; a lifestyle business. And that's exactly how it went, the shop was a great earner, paying two salaries, getting us our first ever home and giving us a cool life. Dream achieved. Within 6 years we have sold over 25,000 brilliant items, which literally gob-smacks us. But alas, it doesn't make the money anymore, Norwich is being hit really hard by the recession and the city is the quietest it has ever been. Shops cost a whole heap of money to run and the recession literally cripples small independent shops, unlike some, ours is a shop where both James and I need to earn a wage from it, it's our only family income, so when the money isn't coming in like it once was, choices have to be made.
Another massive reason we are closing is due to the way 'vintage' has changed, especially in Norwich. When we moved to Norwich from London in 2008, we did so because we fell in love with The Norwich Lanes area of independent shops and saw that we could fit in perfectly. I knew exactly how I wanted the shop to be, modern and fresh, a new way to sell vintage, a boutique, with eye popping branding. Prim opened with a bang and it was a huge hit. Norwich it would seem hadn't seen anything like us before and we could hardly keep up with demand. I think we made it look as though it was easy and that there was money to be made, because, within our third year, oh my, did more vintage shops pop up! Norwich is a small city, and suddenly from having just us, there was at one point 12 places to buy vintage in Norwich. Honestly, I don't feel that any shop or market stall ever did it even half as beautifully as us, but the fact it was now everywhere broke my heart. I loved vintage from a young age because it was unique, different, and a niche. Quite simply, Norwich became ridiculously saturated with vintage. Add to that the nationwide boom of the genre which meant charity shops all had dedicated 'vintage' rails, traveling vintage fairs regularly brought out of town sellers into the city, the high street mass produced 'vintage' imitations and, well, it's really hard to make a living out of something in a small city where there's more supply than demand. Our reasons for having a vintage shop, to run a local business offering something unique to the city, were no longer valid in Norwich.
The last main reason and by far the most important one is; life. Having your own shop takes up all of your time. All day, every single day you are doing something to do with the shop. You do it because you choose to and because you love it, but as you become surrounded by competitors and also the recession, the love for it wanes and you kinda question whether you still want to do it? The stress, the pressure on your relationship, the time you give up? Working for yourself, as many do, is bloody hard, you can't switch off, you carry the burden of the bills. I love being my own boss, and I feel lucky, but as all self employed people know, goodness, there are many times it would be preferable to have paid holidays, a pension and hours that end when you leave the office. We need to get some life back, we need to have a holiday together as we haven't in 7 and a half years, we need to not miss special occasions because we have to be at the shop, we need to not feel like we're watching life go on outside the shop window. We gotta find a new adventure. The shop has been, genuinely, a dream come true, setting it up, having it succeed massively and working every day with items that fascinate us. And, of course, the customers have been amazing. Closing Prim, will be a loss for the city of Norwich and we have been astounded by the compliments and love we have received during our closing down period. We've done all we ever wanted and needed to do with the shop, and now we need a new challenge. What are our plans? Prim is going online, the super-dooper website is getting ready right now, I can't stop working with and loving vintage, it is my trade, my passion and I will continue to source and sell beautiful clothing, but now the audience can be all over the world and I can fit it around my life a little more. We may occasionally have a quick pop-up shop in the city, and also, for local lovely customers of Prim, I will be offering a pick up point in the city on a weekly basis where you can come get your purchases!
So it is Goodbye to Prim the shop, and Hello to Prim Online. Without every single one of our customers, none of the past six years would have happened, we are sincerely, utterly and genuinely thankful to all of you, we love that you loved what we sold and how we sold it, we have loved being part of your wardrobes and therefore your lives, I hope to carry on finding you amazing fashion for more years online. Prim has appeared in Vogue, Company, and Glamour magazine, it was named as one of 'the top 5 vintage stores in the UK' by The Guardian, it has won 'best vintage shop in Norwich' for both the years that the awards were running, it's supplied clothing for theatre, movies, museums and The Oscars. We always wanted to create a magical place in which to shop and I think we did, we created something brilliant for you and for us, hip-hip-hooray for Prim and all it's customers, it's been marvelous! Thank you all so much. See you online! xxx
Beautiful illustration thanks to Nicola Jones.