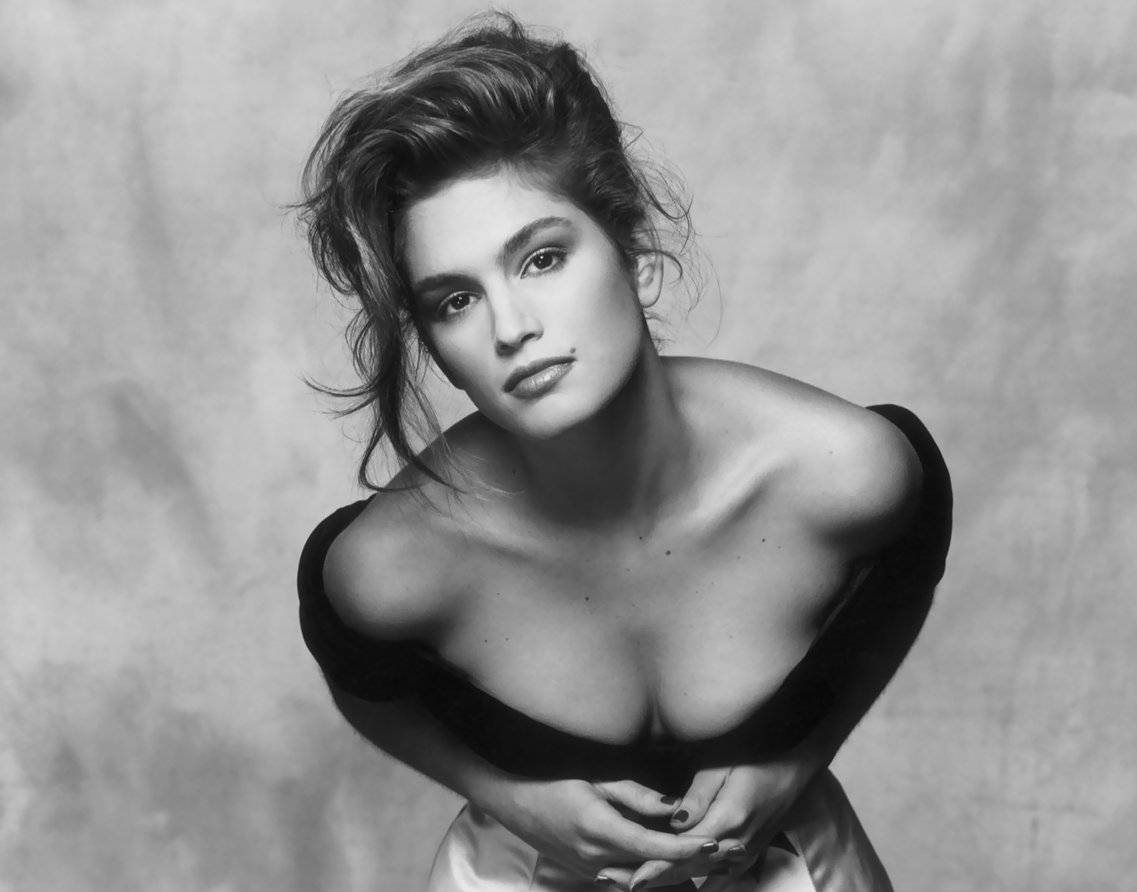 There's a certain curiosity about seeing an iconic woman in the flesh, about viewing one of the world's most beautiful women with your own eyes, about feeling for yourself that sparkle which they radiate. So when I saw that supermodel Cindy Crawford was doing a talk at the V&A I was certainly curious enough to get myself a seat in the audience. I love these talks that the V&A do, they give great intimate insight and offer a feeling of exclusive access, but I mostly love the informality of them. These talks make globally known people seem attainable and, aside from their great talents and success, you're reminded that they are regular humans, who just happen to be living extraordinary lives. The talks are done in an interview format followed by questions from the audience, and Cindy was being interviewed by Fashion Editor of The Sunday Times, Claudia Croft.
Cindy Crawford, pretty iconic, pretty sensational to look at – not from my generation, I'm way more of a Moss girl, but, I have known Cindy's face for a very large part of my life – and so it was pretty cool to see her for real. Dressed elegantly in black trousers, black jumper and a diamante belt, she owned the room from the moment she walked in. Looking older – yes obvs – and with cheekbones which looked a little over-plumped, but at 49 years of age, Cindy Crawford mesmerizes. I think fame itself makes people seem mesmerizing, there's something very surreal and magical about seeing in front of you a face which you've only ever seen on TV or in magazines. I love it, for me it's like the equivalent of a young girl seeing a Disney Princess come to life.
As she nears her 50th Birthday, Cindy decided to bring out a book – natch, don't we all?! – and 'Becoming' is her offering. More than just a coffee table book of photos, this hardback book has, yes, lots of AMAZING images of her career, but also there are 50 essays written by Cindy herself on subjects such as learning to say no, learning to love herself, self esteem, and getting older. Issues which I personally was interested to hear her talk about. Watching her talk, she seemed like a good egg. A girl's girl, a Mother and Wife, genuinely humble and honest. Watching her talk made me really like her. The audience were mostly female and the atmosphere seemed one of a sisterhood sharing a valued experience.
In the hour and a half chat, Cindy talked about her phenomenal career in the era of the Supermodel; sharing cool stories about Christy Turlington, Naomi Campbell and Linda Evangelista. About how the late 80's and early 90's was the first time fashion and music really fused, with the birth of MTV. The George Michael 'Freedom' video propelled this group of women – all of whom had a different beauty – to a rock-star status, these models suddenly became celebrities in their own right. She said that shortly after the video came out, all 4 girls walked down the Versace catwalk together and BOOM, she felt a shift in their status…and their wages! Still to this day, think of all the thousands of models who are out there working, only a select few really get to stand out and become known in their own right, well, Cindy was one of the first.
As well as hearing her first-hand tales from the fashion industry, I was really fascinated to hear her talk about self esteem. For me, a girl who has *forever* battled low self esteem and huge self criticism, it was brilliantly reassuring to hear a woman who has made millions from her looks tell us that she too doubts herself and fears that she isn't good enough. She reflected on the competitive nature of the supermodels and her own insecurities. She desperately wanted her mole removed; "I hated it. But, my Achilles heel went on to become my trademark, it's what made me stand out." She reminded us to celebrate that which makes us unique because that's the very thing which makes us beautiful. Meh, easy for a supermodel to say tho right? Obviously we all know it's true and we SHOULD learn to embrace rather than hate things that we feel make us less beautiful but it's DAMN hard. I kind of always envied models, because, I guessed in a way that they must feel at ease with their looks, like it's one less thing to worry about because they've had their beauty validated by being on the cover of magazines, by being adored for their looks. But, as I get older I know that as many people may find one person beautiful, just as many others won't, because we all see beauty in different ways. But, there ain't no denying that some people just give great face and I figured life would be easier if you felt assured that you are beautiful. So hearing Cindy Crawford talk about how SHE felt unattractive next to other models and envied other models looks, well, it shows that women will sadly always doubt their own beauty, and very rarely recognize it in themselves. She said "I wish we could be as appreciative of our own beauty as we are of other women's. When I look at other women, all I see is what's right." As I sat in my seat, I resisted the urge to shout 'Heck yeah!….you feel that way TOO CINDY?!' I felt the room shoulda erupted into a Ricky Lake American style frenzy of whoops and fist bumps at this revelation. But, it didn't, because we are British, and, we were at the V&A so we were all being very polite. But, ooof, it was something big for me, a relief, to hear that it doesn't matter who you are, what you do or where you get to in life, we all doubt ourselves and envy others. She went on to talk about bringing her daughter up in a society which is SO focused on the visuals of life. She encouraged other Mothers to focus on achievements their child makes, if they handle a situation well, or study hard for a test, to notice and comment on those things rather than their beauty or cuteness.
And, on the issue of beauty, she talked about ageing. Something which I wrongly obsess a little over. Getting older isn't easy, but it IS easy to become preoccupied with it, and she had these words of advice. "I make sure I don't judge myself by my 25 year old standards. I'm getting older. But, in 10 years time I will be longing for the face I have now. Learn to embrace each part of life, the now and the future. I would hope there are still many more amazing times to come."
Aw, Cindy, what a doll. I'm glad I went to see her.