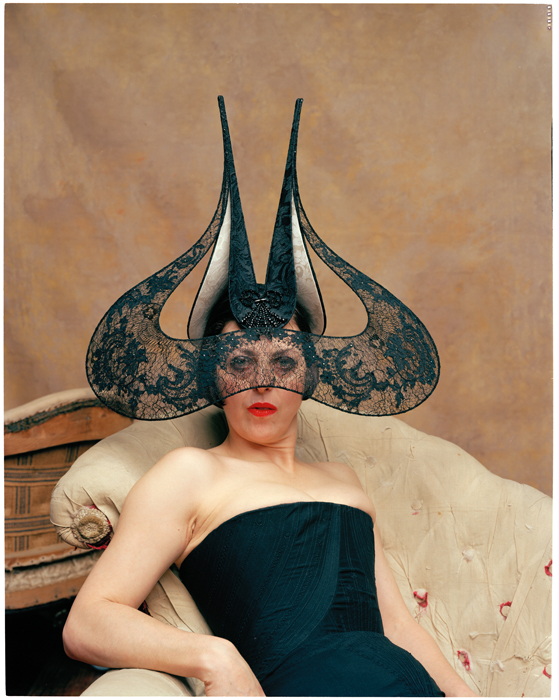 Isabella Blow: Fashion Galore! What a spectacular fashion exhibition indeed. Curated by Alistair O'Neil and Shonagh Marshall, this Somerset House exhibition was a pure thrill to see. I visited on a late night Thursday on the week that it opened, a dark cold wintery London evening. Somerset House is breathtaking in this season, with the skate rink full of whizzing, wrapped up festive people and the Christmas tree that seems as big as a Cathedral; perfection. This exhibition used the same space which housed the Valentino exhibition, but this time the space was used so much better and felt like a much more slick and modern curation.
This huge exhibition celebrates the life and wardrobe of the infamous Isabella Blow whose work as a fashion Editor, Stylist, Consultant and Muse made her a prominent figure in the industry for over 20 years. A fascinating woman, born in 1958, who after a troubled upbringing whereby her parents separated, her Brother died and her Father didn't like her, moved to New York City to study. Among many things, Blow shared an apartment with an actress, moved to Texas, worked for Guy Laroche, got married, met Anna Wintour and became her assistant. Pretty good going. She then became the assistant to Andre Leon Tally, chief Editor of US Vogue. Working for these people, the biggest names in fashion publishing, jobs that people would kill for, came naturally to Blow, hanging out in circles that included Andy Warhol, Blow was fast becoming a fashion icon. In 1986, she returned to London and worked for Michael Roberts, the then Fashion Editor of Tatler Magazine and The Sunday Times Magazine. Blow was a lucky lady in the career department, having jobs people can only dream of, and in her personal life, she was now divorced. In 1989 Blow went on to marry Art Dealer Detmar Blow. You would imagine her life to be wonderful, living a fashion dream, but she was a woman plagued by sadness and depression.
One of the things that Blow was most known and respected for was finding and nurturing British fashion talent. Most famously she discovered and nurtured Alexander McQueen, Philip Treacy and Matthew Williamson. She personally bought the entire first collection of McQueen by paying him in weekly installments. Philip Treacy's hats became her signature style;
"That's why I wear the hats, to keep everyone away from me. They say, 'Oh, can I kiss you?' I say, 'No, thank you very much. That's why I've worn the hat. Goodbye.' I don't want to be kissed by all and sundry. I want to be kissed by the people I love."
In 2007 Blow committed suicide after drinking weed killer, it followed numerous attempts at taking her own life including jumping from Hammersmith Bridge and breaking both her ankles. At the time of her death, Blow was also suffering from ovarian cancer. She had told her husband that she couldn't fight her depression any longer. A sad end to her life, a life that was vibrant, theatrical, bold and unapologetic. Blow's story proves so vividly that no matter what success or wealth you find in life, mental illness can take precedence and make it all seem pointless. Her life is a very valid reminder of how big an illness depression can be. Blow left behind her a wonderful legacy, her eccentricity and her genius as an artist proves how important fashion is in enabling us to express ourselves and have fun.
Fashion Galore! showcases over 100 pieces from her collection including many from the designers she discovered and launched. An amazing amount of Treacy and McQueen, all displayed to perfection, with great lighting and a wink of humour, this exhibition is truly celebratory rather than sombre. I also loved how the clothes were not behind glass, instead of treating them like rare butterflies, they are in the open so you can really peep up close and breathe in the detail. A beautiful tribute to an extraordinary woman.
This exhibition runs at Somerset House until 2nd March 2014, in association with The Isabella Blow Foundation.