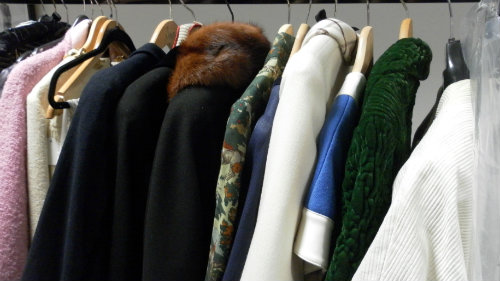 All sorts of excitement were inside my tummy when, a few weeks ago, I scooted off again to my most favourite fashion museum. Yep, I go there as often as possible and when I saw a chance to attend one of their small and personal Couture Handling afternoons….I whooped out loud and booked myself a space. Happy girl. They do this event every now and again and it's basically a small group of people getting the lucky chance to touch, feel and examine the museum's handling collection from the archives. Because of my vocation in life, I do handle vintage beauties on a daily basis, including a few designer and couture pieces, but, I never shy away from the chance to touch some more, and especially if it's ALL couture! Hosted by Dennis Nothdruft, the museum's very lovely and extremely knowledgeable curator; we got a conference room, him and the garments all to ourselves for the afternoon; and a pair of white gloves each so we could freely caress the items. We looked at coats, dresses, suits and jackets and were able to ask all the questions we wanted. As a vintage dealer I am well aware that used fashion often has marks and damage from age and wear. It was really refreshing to see that the museum held items in it's archives that were stained or marked but still deemed them as great examples. This issue is something that I continually have to explain to some people unfamiliar with vintage; the items have lived a life and are older than you are, so will invariably have signs of their journey, it doesn't make them any less fascinating or adorable. As with all the events at this place, it was relaxed and informal with the small group of us all mutually ooh-ing and aah-ing at what we were seeing. One lady did, to everyone's horror, proceed to pull out a packet of crisps to eat whilst we were stroking Halle Berry's actual won-an-Oscar-in-it gown, but apart from that, it was a gorgeous, fun, educational and privileged way to spend some time.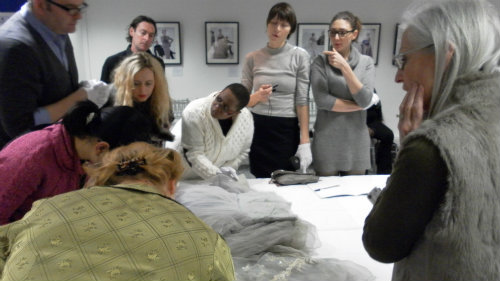 Haute Couture; it's pretty special. In fashion, it doesn't get any higher. A term first used to refer to the work of designer Charles Frederick Worth, it began in the mid 19th century. Worth was the first dress maker to create bespoke designs that customers could choose from and have made to their own measurements in their choice of quality fabric. Known more often as just Couture, this was the form of fashion which turned dress makers into artists and creators. Always using the most exquisite fabrics and trims, made by the most skilled seamstresses, using time taking techniques and with lavish detail and embellishment. The name referred to fashion made in Paris- where it had strict rules as to what could be deemed as couture- whilst in London it was still being referred to as 'custom made'. The notion of couture eventually spread to London, Rome and Milan. Chanel, Dior, Balenciaga, Lanvin and Vionnet all followed in Worth's footsteps to become well-known for producing exquisite haute couture. Today, only a few of the very large design houses still create couture; with their ready to wear, accessories, make-up and fragrances creating the mass volume of their sales. It was Dior who first started the whole idea of licensing products such as perfumes and make-up under his name, enabling the mainstream to buy into his brand, in effect, he changed the way the fashion world worked forever.
The first two dresses we looked at were both Christian Dior, and my goodness they were sublime. Having created the New Look silhouette in 1947, Dior was then quite possibly the biggest name in Parisian fashion until his early death in 1957. The two dresses we looked at were such beautifully typical pieces from him, cinched-in waists and full bodied skirts, so feminine and curve creating. As with much of Dior's early work, both these 'dresses' were in fact 2 pieces; a skirt and a bodice. Both dresses we looked at were teeny and had been gifted to the museum by their owner, who was a member of the famous 'Heinz' family. All of Dior's couture has a label with a serial number and a date on. The first dress, a white 2 piece was from Spring/Summer 1954 and had the most adorable stitched on little baubles. Both dresses had the underskirt attached to the bodice, made of tulle with a horsehair hem, and then the actual skirt goes over the top. The pale blue silk chiffon dress was to die for, stunning pleated bodice and the most intricate shepherd scene embroidered all around the skirt. This 'Rococo style' dress was dated 1957 and was part of Dior's last ever collection.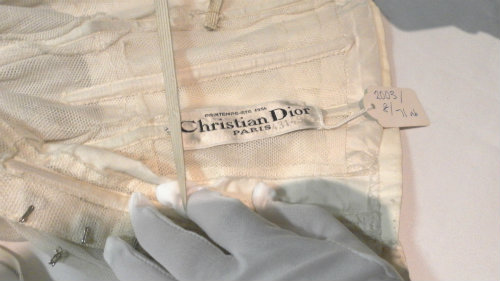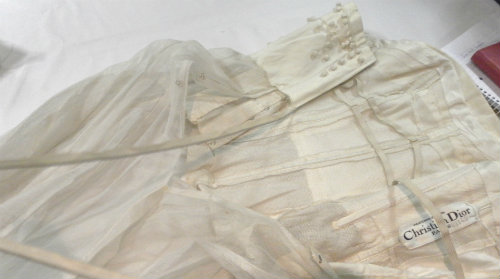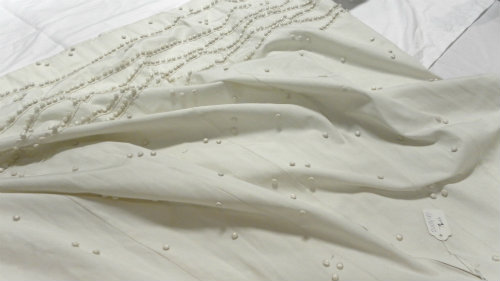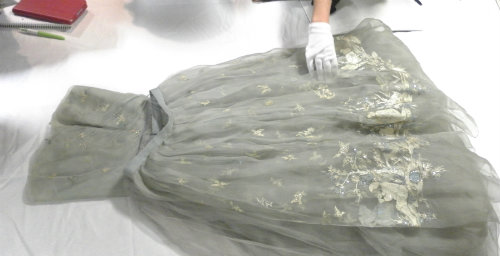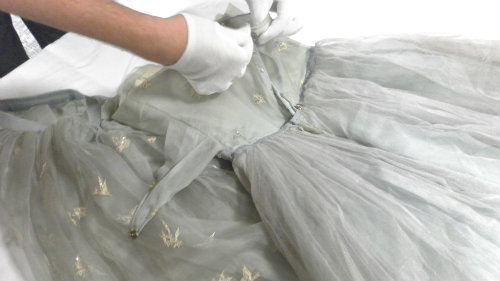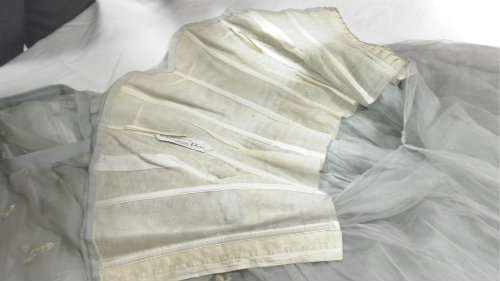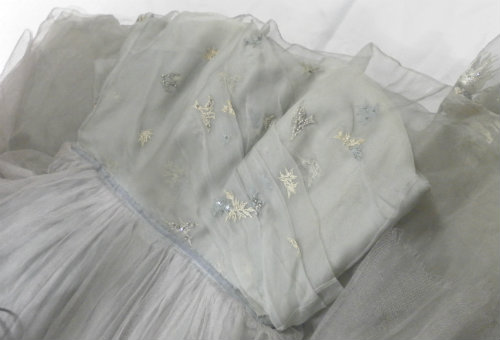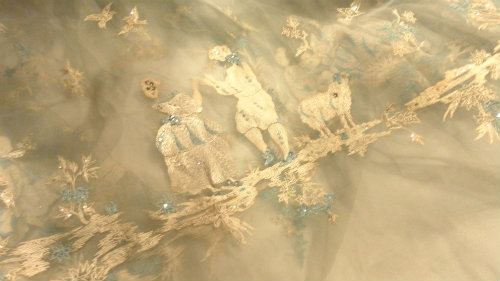 We also got our gloved hands on a classic cream wool skirt suit from Chanel. Having been in the fashion industry for over thirty years, Coco Chanel decided, after World War two, that women needed to step away from the corseted and restrictive 'New Look' which had been favoured and designed by men. So she created a look that was the complete opposite; loose, boxy and with sportive elements. Chanel is undoubtedly most famous for her suits. This cream one was in great condition and had a real weight to it, the chunky gold chain on the inside hem of the jacket is a classic Chanel element and the gold chain trim on the cuffs and neck were stunning.
Looking in detail at couture makes you realise just how much painstaking work goes into each garment, like with all great vintage pieces the attention to detail and the precise workmanship is way beyond that which you would see in clothing today. One amazing dress we looked at was a Sybil Connolly one from the 1960's. This full length black linen dress had been horizontally pleated by hand, with all the work clear to see on the inside, stunning.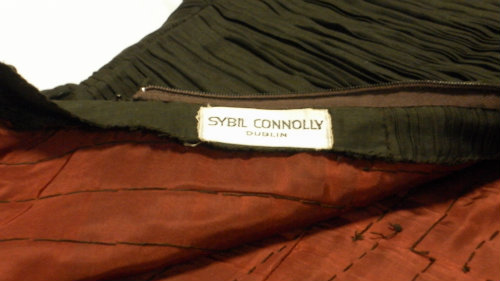 This was the cutest and most probably pretty rare original Hardy Amies hanger.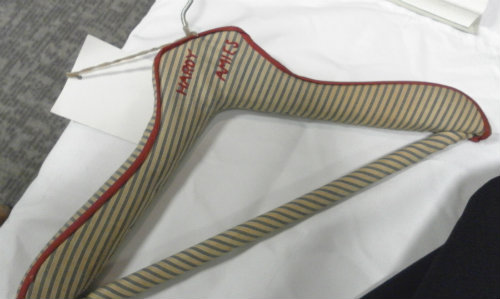 Couture items that didn't eventually sell would be moved into a showroom of the designer and become ready-to-wear garments, with one free fitting to whoever purchased it, kinda like a modern day outlet store! A Hartnell dress would get a 'Le Petit Salon' label to identify that it had originally been couture.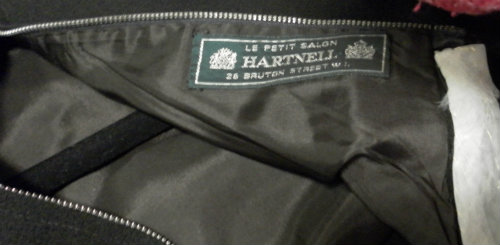 Designers also sold the pattern of a couture item to a customer who would then take it home and get the item made up in the fabric of their choice by a dressmaker, that item would then get a label from the dressmaker or shop which made it up, like this one from Bergdorf Goodman.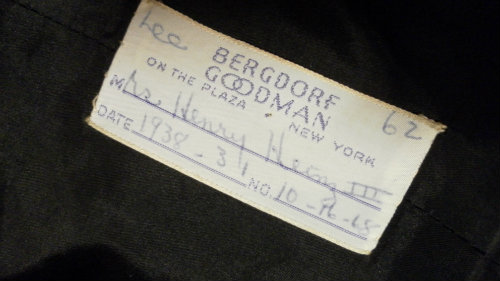 This fuchsia pink silk Balenciaga dress was beautiful, from 1967-68, this had a tropical feel and a Balinese influence, beautiful corset, but from the outside draped like a sarong. With this dress you can again see the intricate and precise work; the hand stitched over-locking on the inner seams was incredible.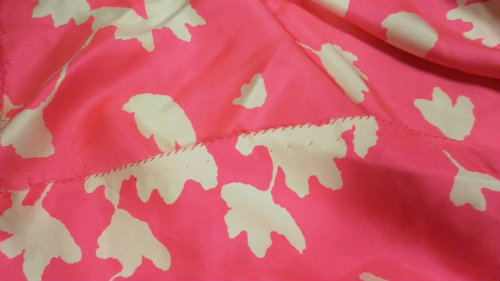 The most modern dress we got to stroke was the gorgeous burgundy dress by Elie Saab, worn famously by Halle Berry in 2002 when she won her Oscar. This dress was opulence itself, the weighty luxurious skirt and the delicate sparkly embroidery made me melt. If left alone in a room with it I would slip right on into it and do a little imaginary red carpet saunter. Well, given half the chance I would have tried on every single one of those dresses. The perfect thing about all the vintage dresses I work with myself, is that I can indeed pop them on for a moment and feel pretty damn special.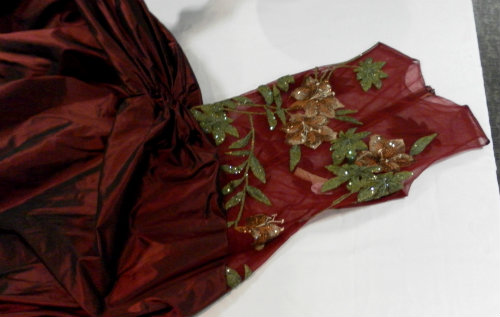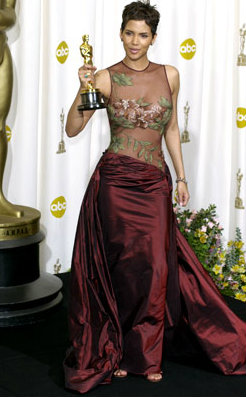 For more information on this event and others like it, visit the