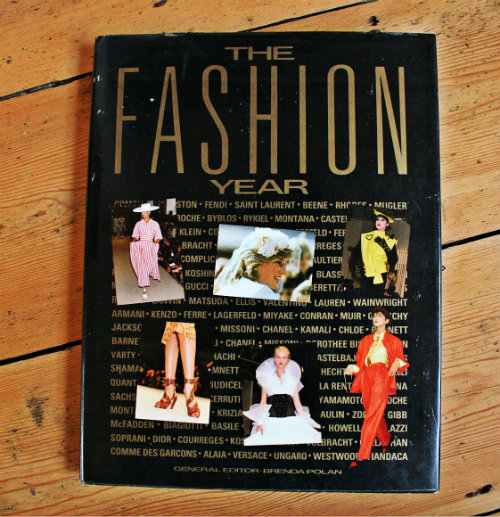 James' Dad has a good habit of finding great old fashion books for me, and for my most recent Birthday he didn't disappoint. I simply love old books on fashion. They are so perfectly representative of a time and movement, and this one on the fashion of 1983 is just ace. I have always really appreciated 80's fashion, I like the fact that people either love or hate it, I like the eccentricity of it and to be honest, I think it's a damn sexy look, it's also really refreshing against the current overload of feminine 'vintage' 40's and 50's looks. 'The Fashion Year' was published in 1983 and is;
All the glamour and romance of one whole year in the International World of Fashion……A panorama of the Spring/Summer and Autumn/Winter collections from the Fashion capitals of the World-Paris, London, New York and Milan……interviews with the year's most exciting and innovative Designers-Miyake, Lagerfeld, Armarni and Alaia…..
The book has loads of content; photos and writing, it looks kinda dated but also still really current, the big Designers are still all around today- Giorgio Armarni. Calvin Klein, Vivienne Westwood, Halston, Oscar De La Renta, Ralph Lauren, Chanel, Missoni, Versace, Thierry Mugler, Sonia Rykiel, Gaultier, Kenzo……the book looks at dresses, hats, lace, sweats and swimwear as well as Models of the era and fashion icons such as Princess Diana. Original Fashion books reinstate how classic looks are timeless as well as how cyclical all fashion trends are….if you leave any look long enough, good or 'bad', it will ultimately be beck on trend again. It's an amazing read and the pictures are just gorgeous, a great little original book!
The book will be kept at my shop Prim Vintage Fashion if any of you fancy a rummage through the pages!