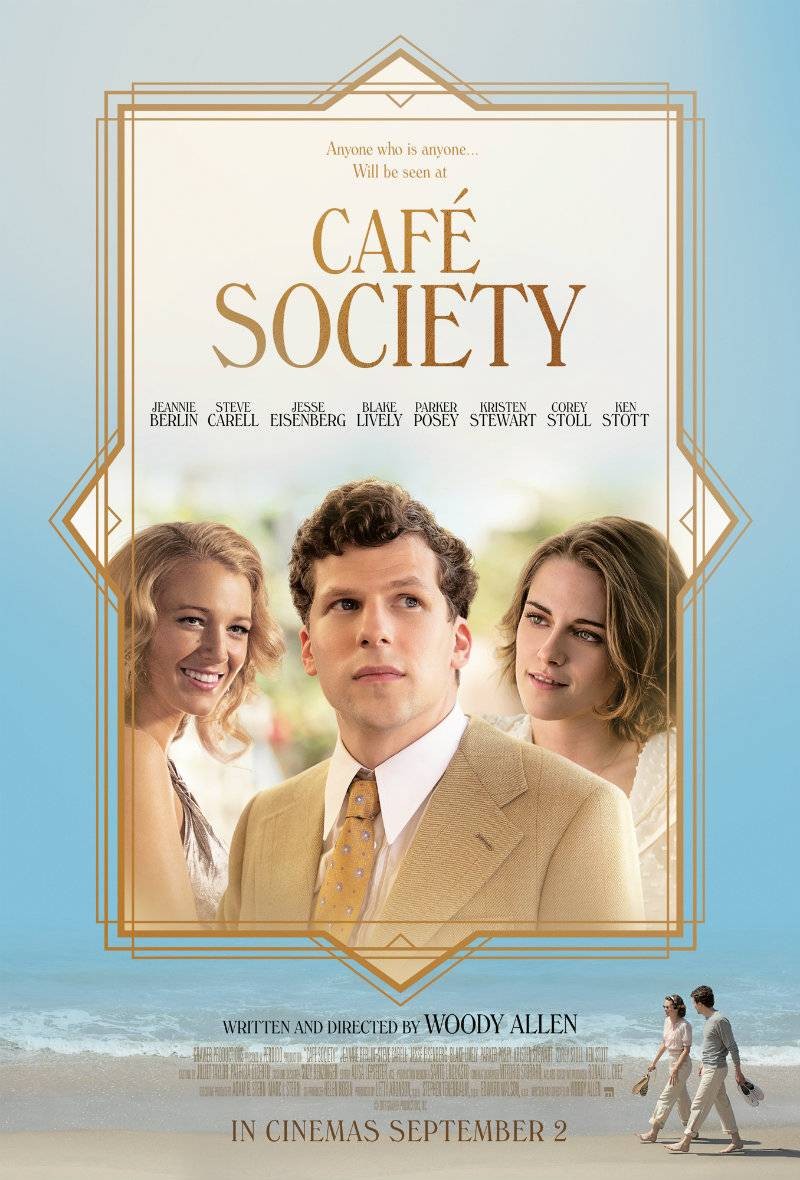 If movies were beverages, Woody Allen's Cafe Society would be a cool glass of smooth Champagne; sparkling and decadent. A beautifully enchanting and bittersweet film, set in 1930's Hollywood and New York. This latest Allen offering has his usual perfectly paced wit and charm, with Jesse Eisenberg captivating in his lead role, particularly personifying a younger Allen, a modern embodiment of the man himself with his faultless delivery of the dialogue and eager awkwardness. The film has a gorgeous, subtle and easy pace alongside the scintillating quickness of the script. Blake Lively and Kristen Stewart are the fashion in this film, gah, what era is more cinematically superb than the 1930's? This is a feast of fashion indeed.
Floaty, feminine fabrics, dainty and fragile details, the 30's clothes in this movie are so expertly selected, with pastels and ditzy florals in abundance for day wear and jaw dropping glamour when it comes to the evening wear. We're watching the Bette Davis era, the elegance and sophistication is magnified and each outfit creates heart-shaped eyes for the viewer. Frilled cape sleeves, floppy neck ties, slim lines and below the knee hemlines conjure up a time when fashion was neat and beautifully effeminate. On a fashion note alone, this stunning film is worth watching just for the red silk gown worn by Lively, which in my opinion easily rivals that green dress worn by Keira Knightley in the film Atonement. Oh my.
You'll come away from this movie with the 30's on your mind, eager to add some of that look to your wardrobe, trust me, you really will. You'll want sherbet colours, delicate details and prim gloves, you'll be inspired to add a bias cut to your repertoire – which is flattering for every shape – you'll want a neat short curled bob in your hair and a beaded bag on your arm. The day wear is cute and accessible and the evening wear is pure luxury on your skin, be it crepe or silk, no gal can feel unnoticed in a 30's gown. Scour sites like Etsy for originals and replicas, or seek out online vintage fashion stores like mine which have done the hard work for you and have found the best pieces. To wear authentic items can be a pricey affair, but these pieces are a true investment with their value constantly on the rise, they're an excellent addition to any collection, plus if you take the time to search you can find amazing items at fair prices or you can simply invest in some accessories of the era to add to your modern look, giving a discreet nod to this perfect period.
Cafe Society is available to own on DVD, Blu-Ray and digital download from 26th December 2016, courtesy of Warner Bros. Home Entertainment, and I defy you to watch it and not be inspired to dress and dream as though you are living in the utter delight of the decade. Swoon.