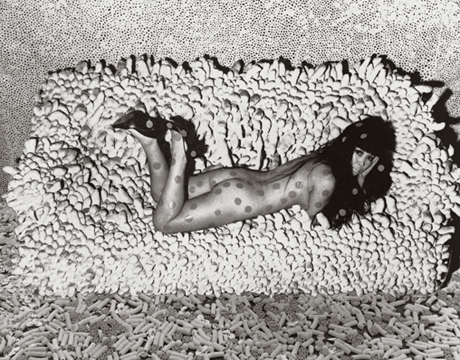 Polka dots are just bloody great. Great because of their simplicity, timelessness, universal appeal, and the fact they can represent both space and clusters. It was polka dots that I chose as my branding for my shop Prim Vintage Fashion, I just LOVE them and it is my love of these dots that made my eyes pull toward the work of a certain Miss Yayoi Kusama. A contemporary of the Avant Garde art movement with the likes of Georgia O'Keefe and Andy Warhol, Kusama has been dubbed 'The High Priestess of Polka Dots'…I was intrigued and so off I merrily skipped to see the Kusama exhibition at Tate Modern.
Being one of Japans most prolific artists with 60 years worth of work in her portfolio, this exhibition is a great representative of her career so far, showing her drawings, paintings, photographic work, sculptures, collages and stunning full scale room installations, a totally magical way to spend some time out in London.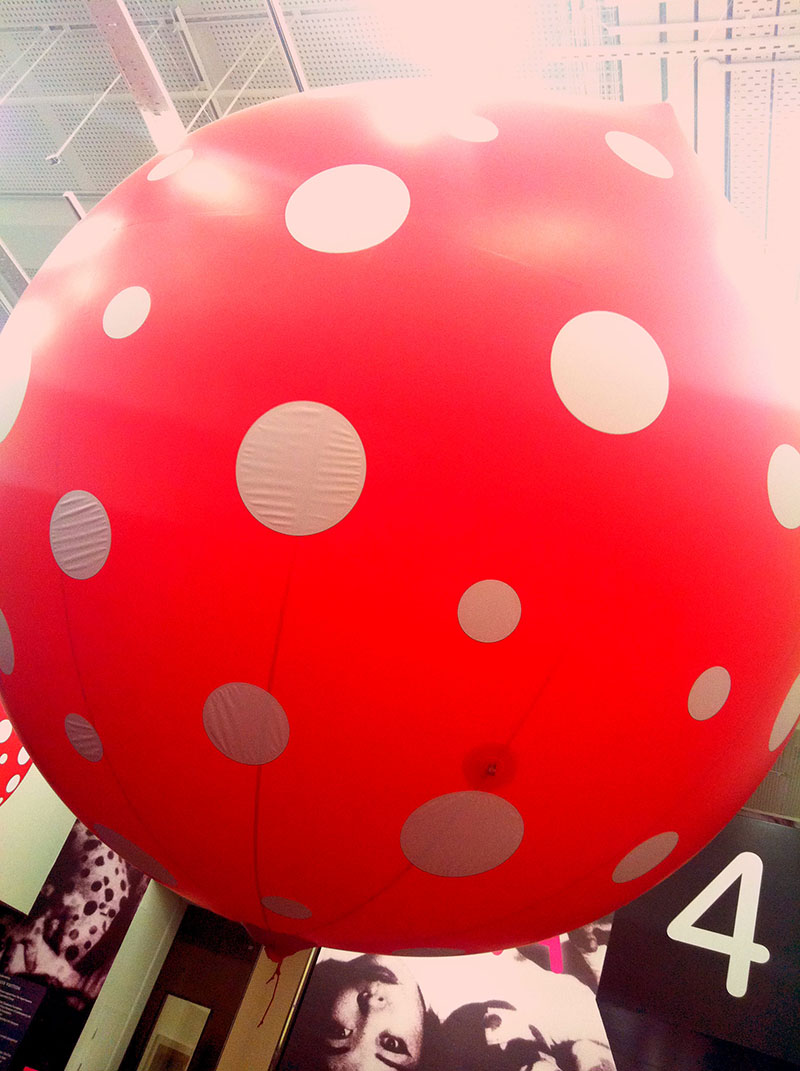 Many see her as a kooky and rather loopy lady, but hey, if we all spent our time creating images, sculptures and room installations to represent what went on in our heads, no doubt we would all come across as a little crazy, her work just howls of honesty. Born to a wealthy family in Japan in 1929, Kusama grew up 'exhausted and insecure' due to a troubled relationship with her strict and violent Mother, she became an obsessive girl whose regular hallucinogenic episodes led her to paint and draw her way through her youth. Her family's business was wholesaling seeds from their farm and she spent many days intricately and repetitively drawing budding flowers.
Kusama's work, even from the earliest days, exhibits beautifully her mental state; intricate, repetitive, compulsive, densely packed, meditative and with a real sense of infinity. The visuals appear to cradle her insecurities and compulsions.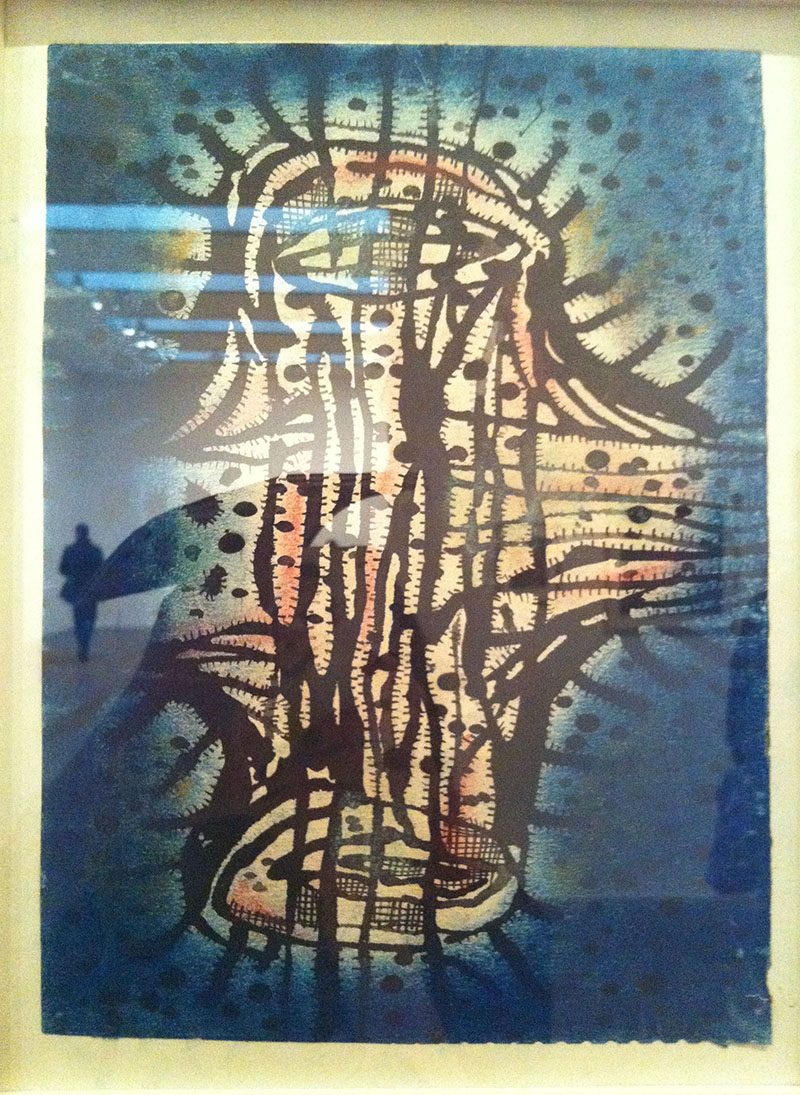 Stifled by the conventional art scene in Japan, Kusama immersed herself in the learnings of European and American art world. In the late 1950's she fled to America and settled in New York City, feeling her art required more 'unlimited freedom' and a 'wider world'. Her signature polka dot theme was now a recurring element suggesting both chaos and liberation.
She continued with her paintings but also began again to use sculpture. Her sculptures were abstract and again, repetitive, everyday objects obsessively covered with stuffed phallic shapes and clothing covered in dried pasta. I rather love these works, I like the 'built-up' texture and the consistency to detail, it's great that she takes such familiar everyday items and distorts them with a patient but stubborn approach.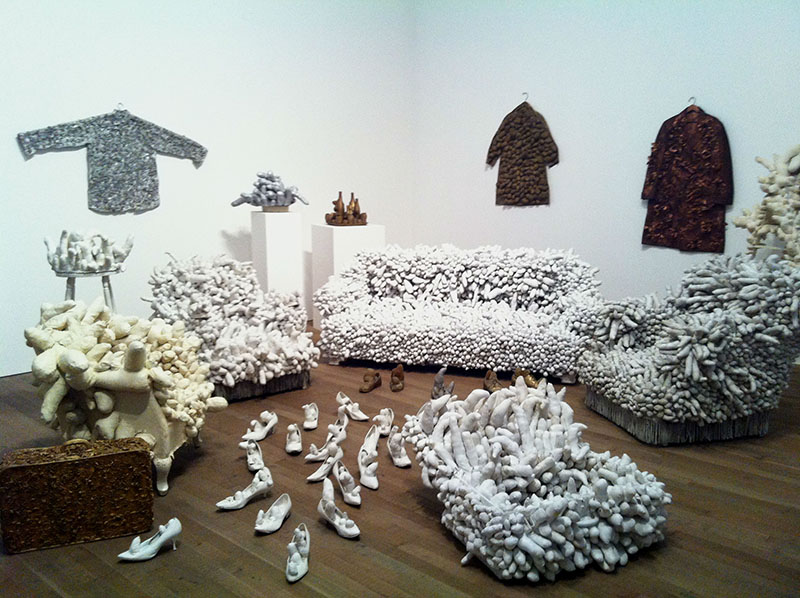 In her full scale room installation 'Aggregation: One Thousand Boats Show' you really feel submerged in her head space. Eery and with a masculine aura, this sculpture felt to me as a little regretful and haunting…her repetitive motif all over the walls and ceiling, as written about in the Tate Modern guide, anticipated Andy Warhol's Cow Wallpaper by three years, which shows how revolutionary her works were at the time.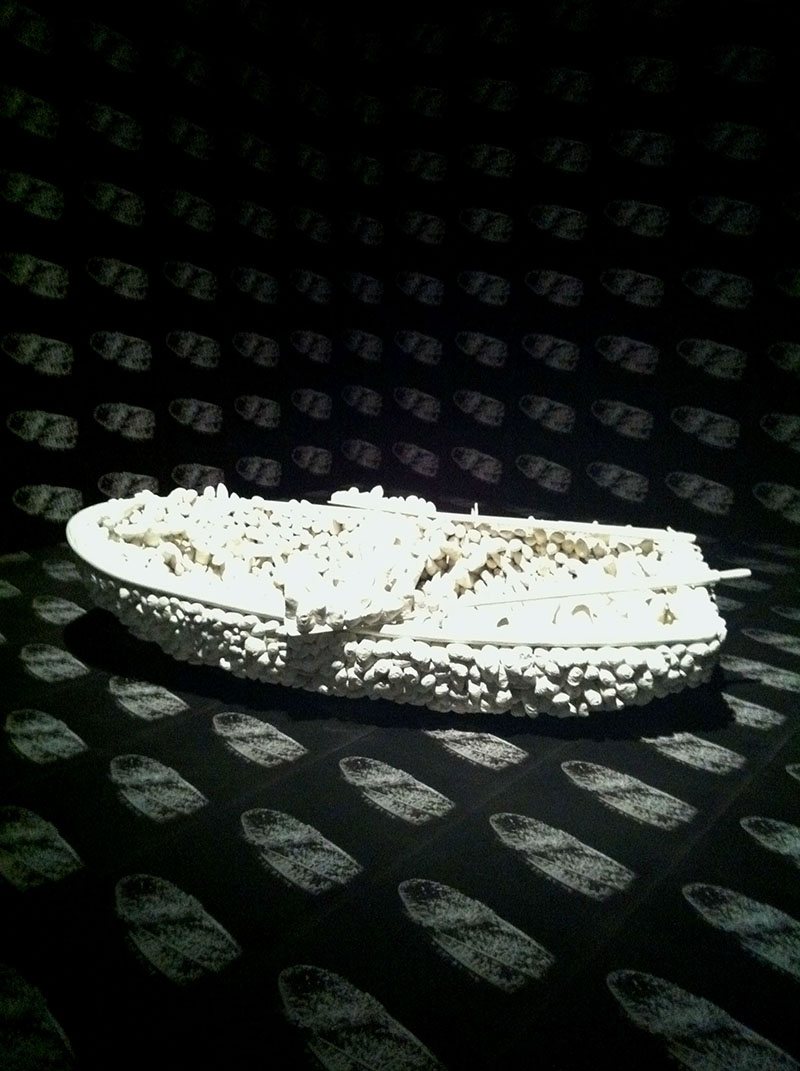 The compulsive repetition continued in her collage work in the early 1960's, these works are really handsome and look as modern as any current artwork, particularly these two;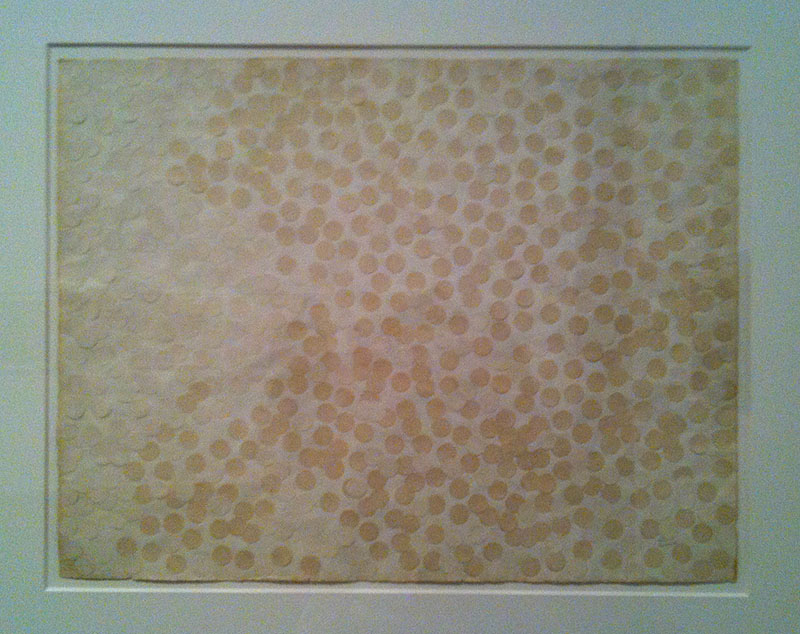 I would have a smile upon my face if any of these were to grace my walls…
In the late 1960's, Kusama took her polka dot theme even farther and her work evolved into 'The Happenings'. Taking place in public places around New York City, the artist and groups of men and women, danced naked in the streets covered in body paint polka dots….beauuuutiful idea!
In 1973, Kusama admitted herself to a mental institute in Japan, where she still resides and works from to this day, using the hospital as a studio base. In the late 1990's Kusama began to do more full scale room installations which, I now think are my absolute favorite works of hers. The very last two room installations in the Tate exhibition are stunning. Simply gorgeous, I could have sat and stayed in either for hours….
The installation called 'I'm here, but Nothing' is amazing, a 1950's style domestic interior covered obsessively in neon glow-in-the-dark polka dot stickers, the lights are off with just one ultra violet bulb making all the dots glow, it brings her hallucinations to life perfectly.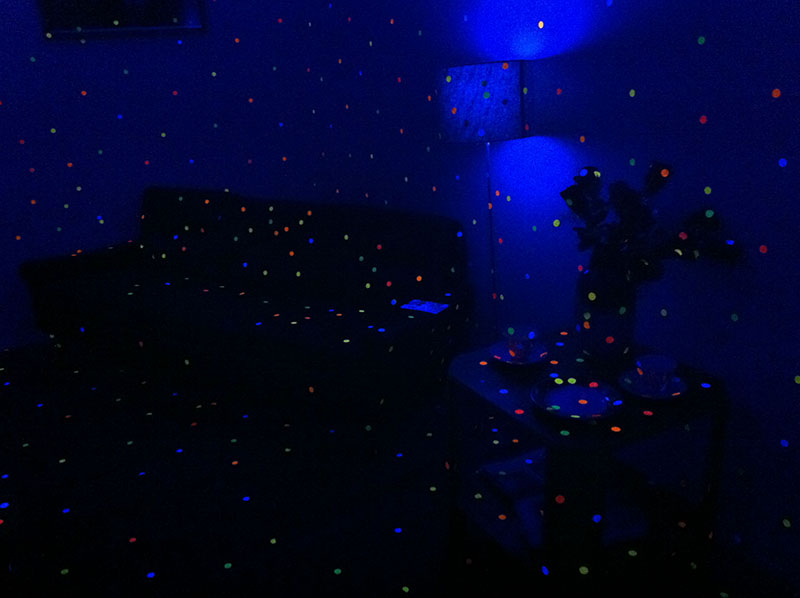 The final room, 'Infinity Mirrored Room-Filled with the Brilliance of Life' was beautiful indeed, a small mirrored room sparkling with hundreds of colour changing smalll lights….superb!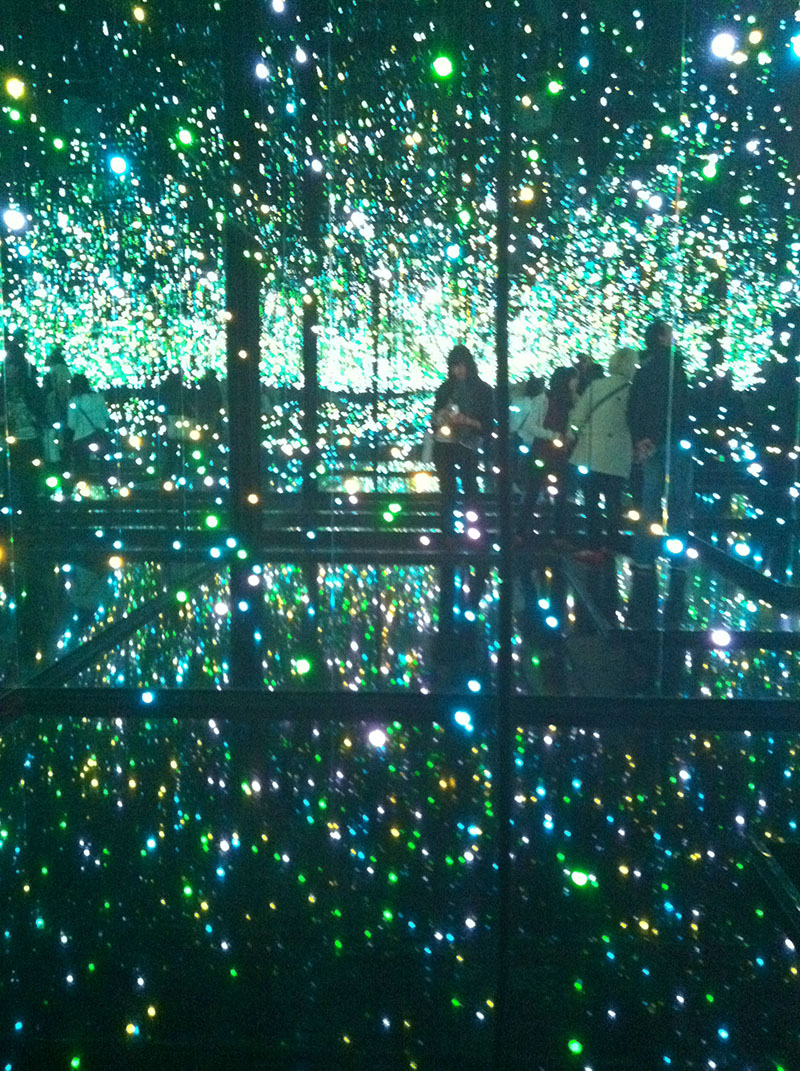 This exhibition of Kusama's work at Tate Modern is divine and takes your eyes and mind to another little dotty place for an hour or two, which is always a good thing I believe!
The gift shop had lots of yummies too, incuding this book that she has illustrated which was super cute! This off-beat lady has ace style and her rather wonderful work makes me all the more curiouser and curiouser…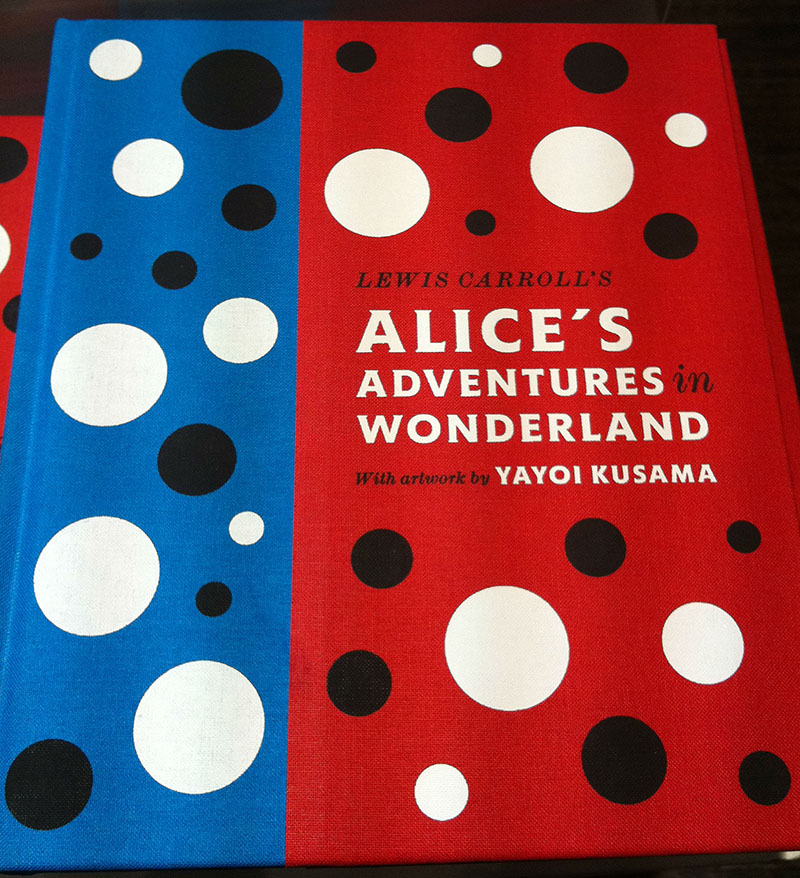 This exhibition is on at Tate Modern until 5th June 2012