Fashion from the past is forever finding a way back into our modern lives, becoming valid once more to a new audience. Fashion in the 1920's was a frivolous and whimsical affair reflecting society's feelings of liberation once war had ended. So it's perhaps perfectly fitting that as the weight of the recession seems to lift, we see the release of the brand new Woody Allen film, Magic in the Moonlight, set in the 1920's; making us all fall slap-bang in love with the care-free and relaxed fashion of this era to match our new found hope.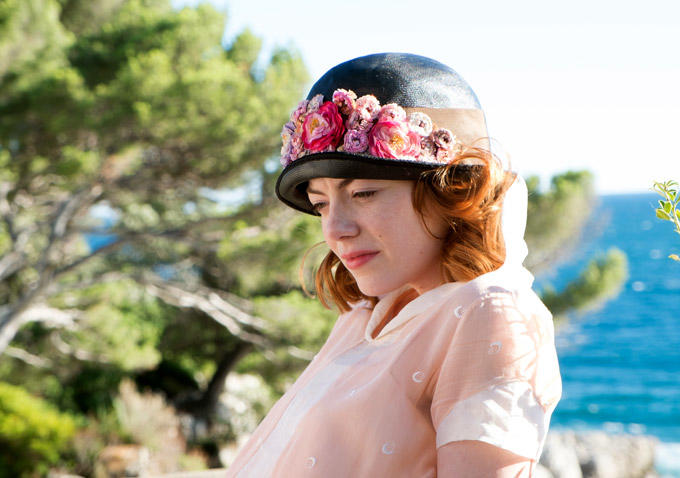 I defy any girl not to fall under the spell of the adorably dressed Emma Stone in this charmed film. Magic in the Moonlight refreshingly focuses on the day wear of the 20's more than the typically favoured Flapper evening dresses, making this enchanting look a much more wearable option for us today. Delicate fabrics, dainty detail and loose shapes, all provide a beautifully simple new silhouette, gone were the corsets and rigid underskirts, replaced with a light hearted weightlessness and freedom of movement in unstructured shapes. Petite boyish collars, soft muted colours, dropped waists and elegant mid-calf lengths are the leading elements to this look. Day wear had a delightful androgyny to it then, women wore adapted men's suits and sailors jackets; a trend Coco Chanel inspired.
Fashion always has a way of reflecting the current attitude of society and the casual grace and ease of Emma Stone's character in this film will have us all wishing for an easy-going, relaxed style; this enchanting film will inspire the 1920's girl in us all!
Getting the look of this era whether you're wanting the original thing or a modern interpretation is a perfect way to dress heading into the new season. Designers and the high street are endlessly looking to this era for inspiration, with many dresses and separates superbly supplying you with an up-to-date take on the look. When it comes to the real vintage version, the dreamy day wear is a more attainable option than original Flapper dresses. Look for dresses, blouses and skirts with an effortless nostalgic tone, a good vintage find of this age is always adorable and a great collectors piece. The more notorious evening dresses from those days are becoming a rare treat to find, dresses embellished with sequins made of wax quite often had the print of a hand melted onto the waist from a dance partners hold, and the fragile silks have commonly become torn and tatty from the weight of their decorative glass beads; a heartbreaking shame for those of us who covet dresses from those days but a cute testament to the celebratory and spontaneous joy that was felt at the time, surely a brilliant way for fashion to show how we live our lives!
Get the look….