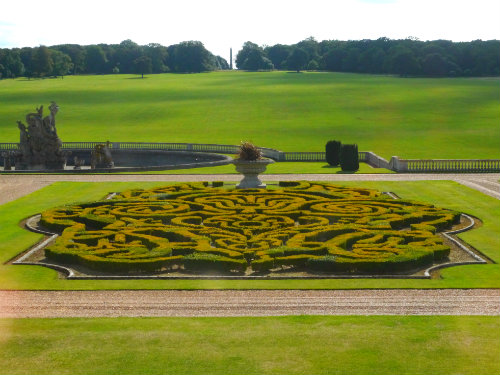 Holkham Hall in Norfolk, oooosh what a stunning place! Having intended to go there for ages, my recent birthday meant we finally got in the car and zoomed off for a day of loveliness. We had been meaning to go for ages, firstly because we knew it had a Bellville Sassoon fashion exhibition 'Glamour and Gowns' taking place, secondly because I LOOOVE stately homes, and, thirdly, because we were sent a personal hand written invite from the Viscountess of Holkham Hall; Polly Coke. Viscountess Coke had been into our vintage shop and bought two stunning 1930's dresses, she followed her purchase up by sending us personal invites to the exhibition and hall, super! Viscountess Coke is the daughter of Belinda Bellville, founder of British fashion label Bellville Sassoon and so her own stately home was just the perfect place to showcase an exhibition of her Mother's work.
The house and gardens were gorgeous, beautiful in their original and well maintained state with knowledgeable staff telling stories and you also got the really nice sense of the Coke family still using a large portion of the house as their actual home, wonderful. The fashion exhibition was a stunning, sparkly and brightly coloured contrast to the dark interior of the house, a delight for my eyes indeed. This small but thorough exhibition was beautifully curated with great information and a selection of dresses that represented the decades of Bellville Sassoon wonderfully. Gold and silver baubles hanging from the ceiling and the beautiful room itself made for an exhibition that was nothing short of enchanting.
Bellville Sassoon was founded in 1953 by Belinda Bellville, originally naming it 'Bellville Et Cie', she opened her first shop in partnership with Sydna Scott in Knightsbridge. By 1958 the business was growing rapidly and Belinda had had her first two daugters, the third, Polly, who went on to marry into the Coke family, was born later in 1967. Belinda met David Sassoon and he joined the business, his expertise in pattern cutting and his technical knowledge proved the perfect addition. In 1970 he became a partner and the name Bellville Sassoon was born. At the end of the 1970's, Tatler Magazine declared that Bellville Sassoon had made more society wedding dresses than any other couture house. This British label had become famous for it's luxury cocktail, party and wedding dresses, with a host of glamourous ladies wearing their designs, including Audrey Hepburn, Elizabeth Taylor, Jackie Kennedy, Madonna and of course, Princess Diana. I also saw some of their designs in the Diana exhibition at Kensigton Palace. At Holkham they had on display a sketch and photo of Princess Diana in her Bellville Sassoon 'Going Away' outfit; a canteloupe silk dress with bolero jacket, 1981. She adored it so much she wore it on many occasions including her tour of Australia in 1983.
My favourite dresses in the exhibit were the bright pink raw silk skirt with a hand beaded lace top, 1960, a polkadot flamenco style dress in silk taffeta and silk organza, 1987, a pink silk paper taffeta dress with bustle trim, ruched bodice and draped skirt, 1980, and the cutest candy stripe silk paper taffeta puffball dress, 1980.
Such a delight of an exhibition and a super birthday day trip.
This exhibition is on until late October 2013, and Holkham Hall is open on various dates over the year, for more information visit www.holkham.co.uk